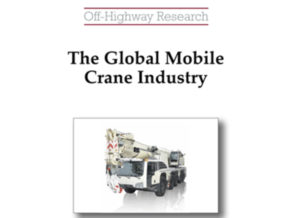 Worldwide demand for mobile cranes is expected to bottom-out this year, according to a new report from Off-Highway Research.  The specialist consultant said sales of all terrain, lattice boom crawler, rough terrain and truck cranes are expected to total 17,077 units in 2016, an 11% fall from the previous year.
Although the North American market is expected to stay in a trough in 2017, growth elsewhere in the world should see global sales rise by 5%. Continued improvement in market conditions should see demand rise above 20,000 units by 2020.
The forecast for a recovery between 2017 and 2020 is underpinned  by a range of factors including; relatively stable demand in Europe, a recovery in the Chinese market – which is dominated by truck cranes – growth from 2018 onwards in North America and general improvement in rest-of-the-world markets.
Publication of the 250 page report follows a six-month research period. It includes a global overview of the sector, and detailed analyses of the five key markets: China, Europe, Japan, India and North America.  Each section assesses the structure of the region's industry.  There is also a section including detailed profiles of 22 of the world's largest mobile crane manufacturers. This is believed to be the most extensive and in-depth report ever produced on the global mobile crane industry.
Click here for more details.