Crews have recovered the bodies of two construction workers who died this morning when their lift basket fell roughly 80-feet from a crane at a bridge construction site in Winters.
The bodies were placed in a staging area just above the bed of Putah Creek for the short trip to a waiting coroner's van, parked at the edge of the construction site on Railroad Avenue. Winters Fire Chief Aaron McAlister A group of eight family members waited under the shade of an auto repair shop for the two workers' bodies to be lifted from the work site.
An OSHA crane team continues its work to determine what led to the workers' fatal plunge Friday morning. Winters Fire Chief Aaron McAlister said earlier that the crane did not topple over.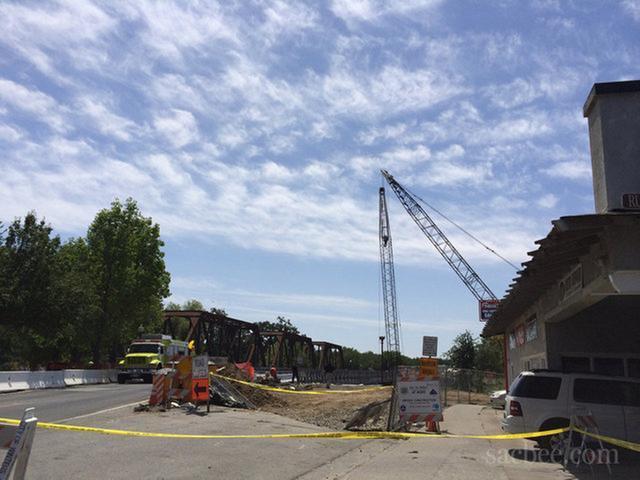 Grieving family stood Friday afternoon under a canopy at the foot of the site on Winters' Railroad Avenue as crews manning a Dixon Fire ladder truck lowered a gurney to the site during the recovery. Both bodies were recovered by 2 p.m.
Winters fire department personnel were dispatched at about 7 a.m Friday. The victims fell roughly 80 feet onto pieces of timber covering a 30-foot hole when a basket broke loose from the crane, officials said. The hole was dug for the footing of a new bridge under construction on the outskirts of the small town. .
The old bridge, there for many decades, was removed and a temporary bridge put in its place. The footings of the new bridge on either side of the creek bank were under construction when the accident occurred. The bridge project over Putah Creek on Railroad Avenue connects Yolo and Solano counties.
A Cal OSHA spokesman said that the workers were in a "man basket" attached to a crane when the basket fell.
The bridge is being constructed by Disney Construction, McAlister said.
Inspectors issued nine violations for two separate safety incidents at Disney Construction sites during the last decade.
The latest violations occurred in 2008 at a bridge construction site in the South Bay. State inspectors initially fined Disney $4,500 following four "serious" breeches of safety regulations, but later reduced the severity of the violations and cut the fine to $750.
A complaint during another South Bay construction job in 2006 resulted in five safety violations and a fine of $5,165 that was later reduced to $1,500, federal records show.
About 673,000 Californians work in the construction industry. More construction workers died on the job in California recently than workers in any other industry, according to the latest statistics from the state Department of Industrial Relations.
About 280 California workers died in construction accidents from 2008 to 2012, according to the latest statistics from the state Department of Industrial Relations. Falls were the leading cause of fatal injuries to construction workers.
Read more here: http://www.mercedsunstar.com/2014/05/30/3672766/two-dead-in-yolo-county-bridge.html#storylink=cpy