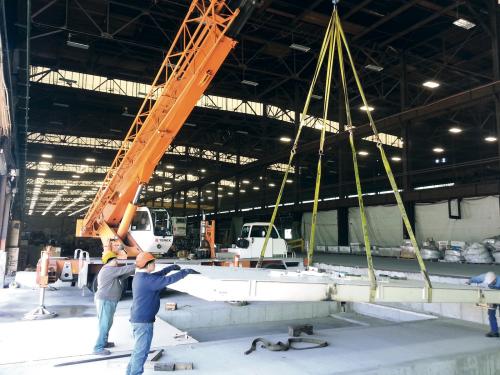 Today's truck cranes combine long reach, high lifting capacities, and highway-speed-travel capabilities to work on large bridge jobs, prefabricated building erection, and more.
Since they are not a high-volume category, manufacturers do not replace models as quickly as in other machine categories, but that hasn't stopped technological advancements. At their core, truck cranes need to be manueverable workhorses for various types of lifts in a myriad of situations, but technology is there, too.
"The most common applications are taxi crane service, steel erection, concrete placement, and equipment placement, such as HVAC units," says Mike Nesdahl, director of sales and distribution, Terex Cranes. "And the strong majority of acquisitions are purchases; our units typically go to owner/operators."
SIMPLICITY AND TECHNOLOGY
Contractor C.P. Ward, Scottsville, N.Y., is a typical user, demanding truck cranes that can quickly go from job site to job site, set up easily, and provide maneuverability during its steel erection, cell tower erection, and HVAC installations.
One-man operation is also important to the company.  Ward owns a 110-ton Grove TMS9000E.
"The TMS9000E is indeed a one-man machine," says Jon Lanse, operations manager of the C.P. Ward's crane/rigging division. "We can have the same person drive the crane to the job site, set it up for lifts, and then act as the operator."
On a recent cell phone tower project, Lanse says the crane's manueverability and reach capability enabled the company to complete a job it otherwise could not have handled.
"For this particular job in Buffalo, I was putting up cell phone towers with the crane," Lanse says. "There wasn't much room to work in; I had to set up the crane inside of a fenced-in compound.
"The crane enabled me to maneuver into this area and still have enough reach with its 142-foot boom to lift to the top of the towers. And even with this kind of position, the crane had a strong enough load chart to make the lifts."
C.P. Ward was also attracted to the crane's technology offerings, such as its remote control system.
"With the remote control system, we can swing the boom and the luffing jib in place for pinning on the boom," Lanse says. "The operator is on the ground watching and making all of the connections. We don't need two operators to head out with the crane to complete a simple job."
KEY PLAYERS
Grove (part of Manitowoc since 2002), offers three truck-mounted cranes, with maximum capacities ranging from 50 to 100 (U.S.) tons; the TMS700E; TMS800E; and the aforementioned TMS9000E. Total gross vehicle weights are 80,324 pounds, 86,856 pounds, and 86,056 pounds, respectively. Front outriggers are standard for 360-degree operation.
Another key OEM in the category is Terex. Terex truck cranes include the 40-ton-capacity T340-1 and T340-1XL (same capacity, longer boom), the T560-1 (60 tons), and the T780 (80 tons).
Liebherr has two models available in North America, the LTF 1045-4.1, a 93,500-pound-load-capacity unit, and the LTF1060-4.1, a 132,500-pound-capacity machine. They feature 144- and 131-foot telescoping booms, respectively.
The company says its long telescopic booms are a benefit for assembling prefabricated components, such as the large concrete panels that form walls for factories, other industrial buildings, and even big box retail stores.
Link-Belt produces a 7-machine line of hydraulic truck cranes with capacities from 40 to 110 tons. The 40-ton unit, the HTC-8640 features two fly options with three offset positions of 2 degrees, 20 degrees, and 40 degrees. "Stow n' Go" outrigger pontoons can be easily secured for transport, and a pull-out CabWalk aids access to and from the operator's cab.
PURCHASE CONSIDERATIONS
Terex Cranes'Nesdahl cites four important considerations for managers purchasing new truck cranes: transportability, the lift chart, maneuverability, and reliability.
"Road regulations vary considerably across states, so depending on an owner's territory, the truck needs to be easily transported from site to site," Nesdahl says. "As taxi cranes, truck cranes are sent out on a variety of applications and need to have the flexibility for various lifts—this means strong capacity across the lift chart. Maneuverability is also key, and cranes need to be reliable to reduce downtime costs."
Manufacturers pay special attention to features that aid transportability. "Axle weights drive fall off loads, boom dollies and more," Nesdahl says. "Axle weights, axle spacing, boom overhang and turning radius are all specifications considered during design."
Harrison Hipple, product manager, AT and TMS, Manitowoc, also singles out transportability. "For a truck crane, gross vehicle and axle weights are critical, and the allowable weights vary significantly between and within states and provinces, as well as by seasons," he says.
"It is important to have multiple counterweight splits and removable parts to meet diverse roading regulations."
Safety also has been a design trend, with manufacturers citing easier cab and maintenance access and corrosion-protected components as key features.
"Manitowoc is introducing several differentiating features and operating aids in our products, including access platforms, cameras, and our Crane Control System," Hipple says.
STANDARDIZATION
The Crane Control System (CCS) is a standardized user interface that provides a common operating platform across multiple product lines. In the Manitowoc portfolio, that ecompasses a lot of models.
Each CCS unit features the same control layout, including a jog dial and central display with standardized symbols. There are only seven major components that make up CCS, simplifying service and maintenance. The seven components are: crane controller, safety controller, small IO (input/output), large IO, joysticks, jog-dial and display. Each can be easily replaced if necessary, or even switched from another machine for the purposes of completing a job, the company says.
"The benefits of standardization are clear and we've been applying the principle to many areas of our engineering design, including counterweights, engines, drive systems, boom and jib options," says Jens Ennen, SVP of all-terrain and truck cranes at Manitowoc, and also the company's global head of engineering.
"Its ergonomic layout means the operator no longer needs to stretch for controls to complete operations because everything is in reach," Ennen says.
"Plus, for fleet owners with multiple Manitowoc products, moving operators from one machine to another is a seamless process," Ennen says. "And because the parts are common, owners can keep smaller stocks while the servicing and maintenance is standardized and also much simpler."
Originally published on www.constructionequipment.com