Antwerp's Scaldis Salvage & Marine Contractors NV has announced an order for a unique self-propelled DP2 crane ship with 4,000 ton lifting capacity from Royal IHC.
The ship, known as the Rambiz 4000, will be operated by Scaldis and used for installation and decommissioning activities for the oil and gas industry, as well as the installation of offshore wind farms. The ship can also be used for any type of marine related heavy lifting work in challenging situations, such as the construction of bridge components and clearing subsea obstacles.
Its design was developed in-house by Scaldis and Vuyk Engineering Rotterdam, part of Royal IHC. It features two Huisman cranes with a lifting capacity of 2,000 tons each. The cranes will be able to move up to 25 meters aboard the ship, allowing the deck to be used to transport and relocate cargo. The ship also has extra carrying capacity of 3,000 tons.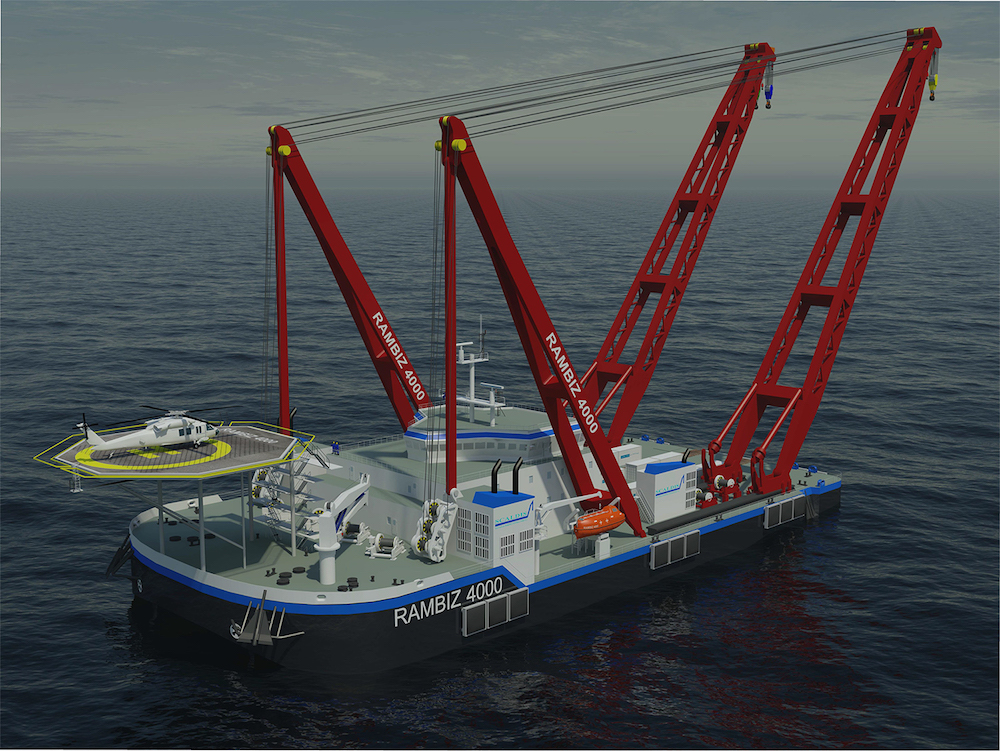 The ship comes with an integrated design that allows the maximum load to be hoisted in significant wave heights of up to 1.5 meters. Under these circumstances, Scaldis says, the freeboard anywhere on the vessel is no less than 3 meters. In standby and transport modes, the vessel can operate in significant wave heights of up to 7 meters. Scaldis notes that the maximum load can be lifted in waters depths of just 5 meters.
The Rambiz 4000 features four azimuth thrusters and a DP2 system allowing for operations in deep water without the use of anchors, guaranteeing operational flexibility and allowing work to to be carried out in zones where many pipelines and cables lie on the seabed. The crane ship is also equipped with 4 main working anchors and winches and 4 secondary devices.
Other features of the vessel include a "rapid ballast system", allowing for quick and continuous hoisting operations; a moonpool for the purposes of operating an ROV; heave fenders allowing for containers to be loaded and unloaded at sea; and a helipad.
The contract for the construction of the ship was signed January 29, 2015 and delivery is scheduled for spring 2017 in Europe. The vessel will be built at Qidong and finished in Xiamen, both in China, under the responsibility and coordination of Royal IHC.
'Rambiz 4000′ Main characteristics:
Provisional name: Rambiz 4000
Type: Self-propelled crane ship
Principal: SCALDIS Salvage & Marine Contractors N.V.
Shipyard: Royal IHC
Length: 108.00 m
Beam: 50.90 m
Depth: 8.00 m
Draught: 4.90 m
Speed: 7 knots
Hoisting capacity: 4.000 Ton
Total installed capacity: 10,450 kW
Accommodation: 78 people
Special feature: DP2