Once again Potain tower cranes are at the heart of a new hydropower mega project. A team of 19 Potain tower cranes are building the 1,285 MW Xayaburi dam in northern Laos. The cranes are working 24/7 on the eight-year project, which will create an 820 m long dam across the Mekong River.
Potain is widely regarded as the leading supplier of lift equipment for dam building projects with several of its cranes central to the construction of China's Three Gorges dam, the world's largest dam in terms of installed capacity and one of the highest profile projects of recent years.
The success of the highly ambitious Xayaburi project will depend largely on the performance of the Potain cranes. Their primary task is to place Roller Compacted Concrete at a rate of 250 m3 per hour. Handling much of this work are two Potain MD 1600s. These giant 64 t capacity tower cranes are fitted with Potain's top-belt concrete placing system, which combines the benefits of a powerful crane with a concrete conveyor belt, which extends 25 m beyond the jib end, enabling each crane to pour up to 600 t of concrete per hour at a radius of up to 105 m.
The concrete placing system was one of the main reasons why Potain cranes were chosen for the demanding project. Manitowoc and partner Nippon Conveyor created the solution, combining Nippon's belt conveyor system and the high capacity Potain MD cranes. The concept was first used on the Three Gorges dam and was later employed on the Longtan gravity dam, also in China, and the Sesan dam in Vietnam.
Mr Thamnoon Surarat, project manager at main contractor CH. Karnchang PCL, said Potain's experience in dam building made the company a trusted partner for the project.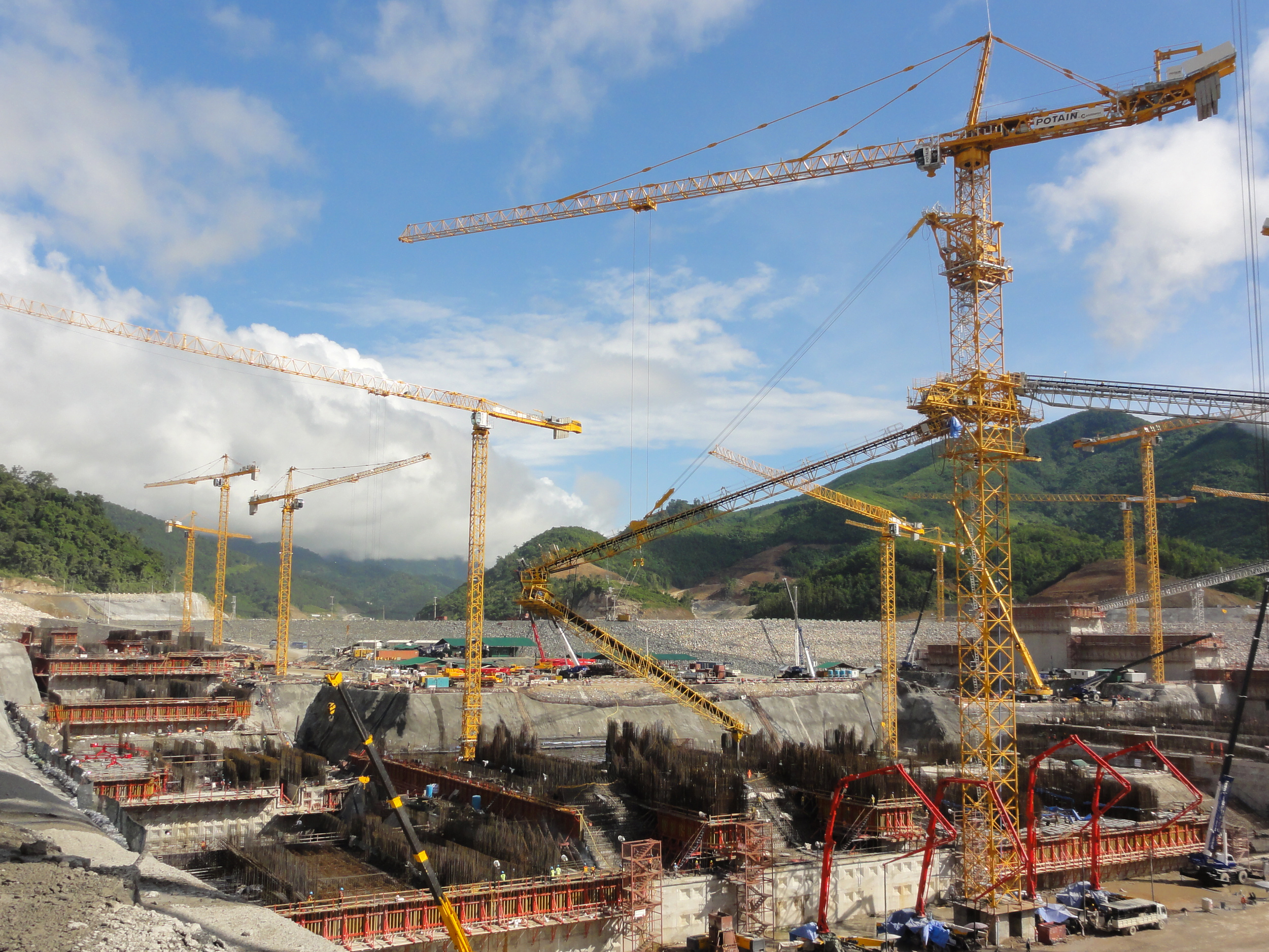 "Potain provided the best solution for us and the company's Lifting Solution department has a wealth of experience in successful dam construction that gave us confidence that our own project will be a success," he says. "Manitowoc's Lifting Solution department and Potain's dealer, S.B. Siam, worked closely with us to design, implement and maintain a unique set-up that will work consistently in harsh and humid conditions with tight deadlines and a demanding work schedule. Everything is moving ahead as planned and we are delighted with the cranes."
All of the Potain tower cranes were supplied by S.B. Siam, Potain's dealer for Thailand. Working in unison, tower crane experts from Manitowoc in France and Singapore, together with SBS, provided the unique solution to the project, including erection and maintenance to ensure the cranes operate at maximum efficiency day in, day out.
Alongside the two Potain MD 1600s at the Xayaburi dam are 17 other Potain tower cranes, some of which were manufactured at the company's Zhangjiagang factory in China and others at its facilities in Moulins and Charlieu in France.
The Potain cranes were erected between March and August 2012. The cranes are strategically positioned to give every square meter of the construction site at least 3 t of lifting capability.
The Potain tower cranes at the project represent much of the company's top-slewing tower crane range. As well as the MD 1600s, which are rigged with full 80 m jibs and offer a height under hook of 92 m, there are two MC 205s, four MCT 385s and 11 MC 310s. These MC and MCT models offer capacities from 10 t to 14 t and are pouring Conventional Vibrated Concrete, as well as lifting general construction materials, such as formwork and rebar.
Mr Thamnoon Surarat, project manager at main contractor CH. Karnchang PCL, said Potain's experience in dam building made the company a trusted partner for the project.
The 14 t capacity version of the MCT 385 topless tower crane offers a maximum jib length of 75 m, at which it can lift 3.2 t. Potain's MC 205 B is a 10 t capacity tower crane that can work with a 60 m jib and lift 2.4 t at jib end. The Potain MC 310 is a 12 t capacity that has a maximum jib length 70 m jib and can lift 3.2 t at jib end.
Established in 2004, S.B. Siam is a leading construction equipment supplier based in Bangkok, Thailand. The company provides the complete range of POTAIN tower cranes to projects in Thailand.
Located 100 km downstream of Luang Prabang in Laos, the Xayaburi dam will be 820 m long, 150 m wide and 35m high. The dam is owned by Xayaburi Power Company Ltd., and is expected to produce 7,400 GWh annually, when it enters operation in 2019. The project will strengthen the power grid system in Laos and Thailand.