Oman International Container Terminal (OICT) supervised the delivery and installation of three quayside container gantry cranes that arrived at Sohar Port and Freezone last week.
Despite initial setbacks due to poor weather, the last of three massive Post Panamax cranes was safely brought to shore on Tuesday following a four-week long, 6,500-mile sea journey.
These high-tech cranes were built to order by ZPMC in Shanghai, and represent a further multi-million dollar investment by OICT.
The offloading is a highly complex engineering challenge, said the OICT engineer supervising the operation.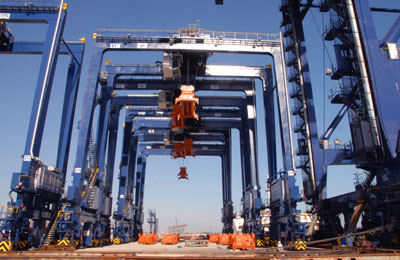 "We've built temporary rail bridges from ship to shore so we can move the cranes to the quayside," he explained.
"Each crane weighs hundreds of tons, so the transport ship needs to be balanced by water ballast as the cranes are removed in order to keep its height above the water line constant. Add to that the tide movements and the weather, and you can imagine the challenges we are dealing with.
"Safety is always our number one priority at OICT and this operation has been planned and rehearsed over and over again. Once the crane is on the quay we will need to jack it up to remove the temporary wheels and then we move it very slowly onto its permanent tracks embedded in the quay," he added.
The huge new cranes have an outreach of 52m to service very large container ships, and will be equipped to pick-up two 20-foot containers simultaneously, further increasing productivity in Sohar.
They are part of the new high-tech Terminal-C development which, once completed, will give Sohar another significant boost in terms of its competitiveness in the Gulf region. The new Terminal-C in Sohar is planned to be one of the most advanced in the region and is being developed in three phases.
Once fully completed, OICT will more than double its current capacity, targeting 1.5 million containers (TEUs) annually.
Andre Toet, CEO of Sohar Port said: "What you see in Sohar is the face of one of the most successful collaborations this region has seen; the wise vision of Oman's Government coupled with the expertise of the Port of Rotterdam. Sohar has success written all over it and our new container terminal is just another part of that ongoing story." – TradeArabia News Service