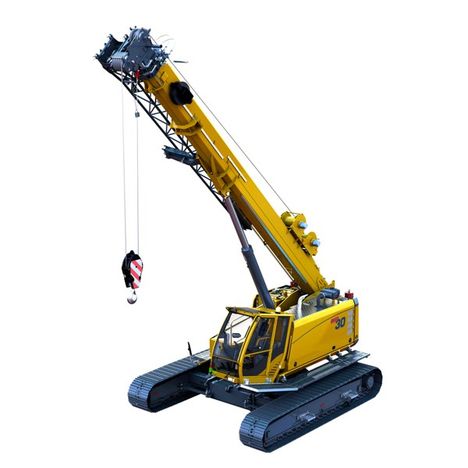 Manitowoc has unveiled its latest and smallest telescopic crawler – the 30 tonne GCH30. The four model range also includes the GCH55, GCH75 and GCH130 launched two years ago, all products of the partnership with German manufacturer Sennebogen.
All four GCH telescopic crawlers are only available in North and Latin America and will be fully supported by Manitowoc Crane Care and sold through the Grove/Manitowoc dealer network. Deliveries of the GCH30 are scheduled for the second quarter of 2017.
The GHC30 features a three-section 25.2 metre telescopic boom that can pick and carry 100 percent of its load chart and slew it through 360 degrees working on slopes of up to four degrees. The crane measures 10.6 metres long and three metres wide and high with a tail swing of 3.3 metres.
The tracks can be hydraulically extended to three working widths adding versatility. The crane can be transported in one load and can begin work with minimal setup. The 15 degree tilting cab features an air suspension heated seat and climate control system, a 178mm screen for viewing the hoist, rear and right side cameras and a graphical RCL system.
Attachments include a 6.5 to 13 metre offsettable swingaway boom extension giving a maximum tip height of 40.2 metres, a two-person work platform, a boom-mounted hydraulic auger and a pole claw. The crane has two engine options – a 173 hp Cummins QSB 4.5 L Tier 4 Final or a 160 hp Tier 3 model. Both engines meet all current EPA requirements.
Manitowoc product manager for GHC cranes John Bair said: "We talked to a number of dealers and customers about the telescopic crawler line and about how we could expand the range to benefit certain applications. Customers that are engaged in utility, energy, construction and barge-mounted work, for example, indicated that a crane with a smaller footprint would help them increase manoeuvrability and efficiency on many job sites. With minimal transport requirements, 100 percent pick-and-carry ability and a robust, full-power telescoping boom, the GHC30 will prove nimble in both getting to and navigating job sites. For many companies, this compact GHC crane will increase their efficiency and return on investment.