A fleet of six Manitowoc cranes is hard at work constructing the 2019 Pan American Games Athletes' Village in Lima, Peru. Since last December, five Potain MCi 85 tower cranes and a Grove TMS800E truck-mounted crane have been onsite, lifting formwork, concrete blocks and smaller equipment. The village's seven apartment towers must be ready by June of 2019, when the games start. The 1,096 units will accommodate all 9,000 athletes participating in the event in the Peruvian capital.
Meeting the Pan American Games organizers' strict deadline was a crucial requirement for Besco-Besalco, the consortium of contractors which is managing the athletes' village project. To ensure the four 20-story and three 19-story towers will be ready, the contractors needed versatile cranes that are easy to assemble, offer high job site efficiency and a great return on investment. After a period of research, project managers decided on five MCi 85 tower cranes. The TMS800E is working alongside the Potain tower cranes, assisting with heavier lifting. The combination is proving to be extremely successful, with all seven apartment blocks expected to be ready by November.
"It took us almost a year to start construction, because we needed reliable cranes and a company that could offer us great support, so we could meet the high standards of this project," said Rafael Correa, project manager of Besco-Besalco. "All six Manitowoc cranes provided a perfect solution for this project, where high performance and velocity are at a premium."
Correa pointed out that having one crane working on each building, instead of one for two buildings, expedited the construction process while reducing costs. This eliminated unnecessary time spent setting up additional cranes and eliminated labor expenses. In less than three months, 15 floors of four apartment towers were built.
The five tower cranes were assembled in configurations to enhance their lifting capacities. While MCi 85 tower cranes can feature up to 50 m of jib, the machines used in Peru have their jibs set between 35 m and 40 m. This increased their capacity at the jib end from 1.3 t to 2 t, which perfectly suits the needs of the project.
"By reducing the jib length, we increased the cranes' capacity while avoiding the cost of higher-capacity cranes," said Carlos Villacorta, general manager of ETAC Peru, a 10-year Manitowoc dealer that supplied the cranes for this project. "Thanks to the Potain MCi 85's features, we were able to develop this efficient construction method and build tall buildings much faster."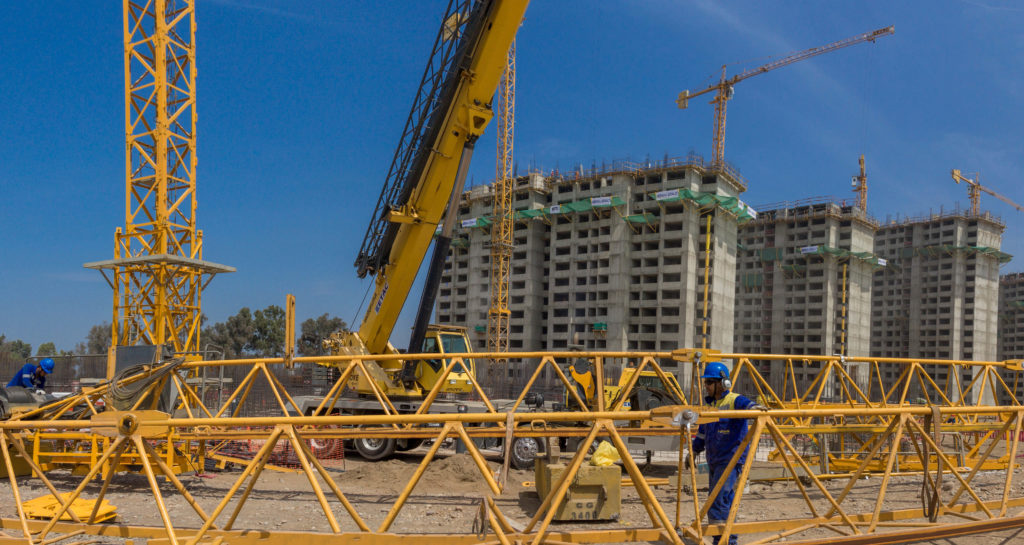 According to Didier Bigay, tower crane regional business manager for South America at Manitowoc, MCi 85 cranes are very popular in the region. The Potain MCi 85 offers maximum performance for a variety of projects, and its special features include low-noise emissions, simplified assembly, broad load curves and low power consumption. These same features are found on its successor, the Potain MCT 85 topless tower crane.
"The Potain MCi 85 was designed for easy assembly and its strong load chart makes it a very versatile crane," Bigay said. "It can be used for numerous jobs in the region, and customers like the quality and performance of this crane. There's a good reason that the MCi 85 was the best-selling Potain crane worldwide for more than a decade."
The 2019 Pan American Games will take place between 26 July and 11 August next year and will see 6,700 athletes competing in 39 sports and 62 disciplines. A few days later, Lima will host the 2019 Parapan American Games, where 1,890 athletes will compete in 17 sports and 18 disciplines between 23 August and 1 September.
After the games, the apartments will be made available to lower-income families in Peru.
Source: Manitowoc
---
About The Manitowoc Company, Inc.
Founded in 1902, The Manitowoc Company, Inc. is a leading global manufacturer of cranes and lifting solutions with manufacturing, distribution, and service facilities in 20 countries. Manitowoc is recognized as one of the premier innovators and providers of crawler cranes, tower cranes, and mobile cranes for the heavy construction industry, which are complemented by a slate of industry-leading aftermarket product support services. In 2017, Manitowoc's net sales totaled $1.6 billion, with over half generated outside the United States.