Heavy equipment and their loads require a solid foundation from which to work. Traditionally, gravel, wooden mats, concrete slabs, and other materials are brought onto a jobsite for this purpose, but these conventional methods add costs and impact the environment.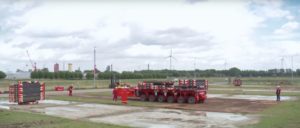 To more efficiently fortify the ground, Mammoet has introduced Enviro-Mat to increase the load-bearing capacity of a site. By mixing cement and the Enviro-Mat additive with the soil, it creates a strong and durable stabilization that can increase capacity by up to 50 tons/square meter. Enviro-Mat uses local resources and requires less transport of materials.
Mammoet's Enviro-Mat is installed by mixing the native soil with the additive and ordinary Portland cement or an equivalent.  Because it uses the soil on site, it is faster to install and saves time before lifting and transport starts. While the installation speed depends on the layer thickness required, Mammoet reports it can cover as much as 5,000 square meters in a single day. It also requires less transport of materials and preparatory ground work, which reduces a project's carbon footprint.
The additive consists of all natural components, salts, minerals, and zeolites. The Enviro-Mat additive lengthens the crystals in the cement, creating a stronger binding and making it more durable than alternatives. The enhanced binding also ensures that the mat has little to no air pockets, making it water-resistant and less susceptible to freeze-thaw damage. This allows the Enviro-Mat to be used to stabilize soil in harsh climates, where rain or frost can make work challenging.
After the project has been completed, Enviro-Mat can be kept in place. It also can be crushed and mixed back into the soil with no negative impact on the surrounding environment.