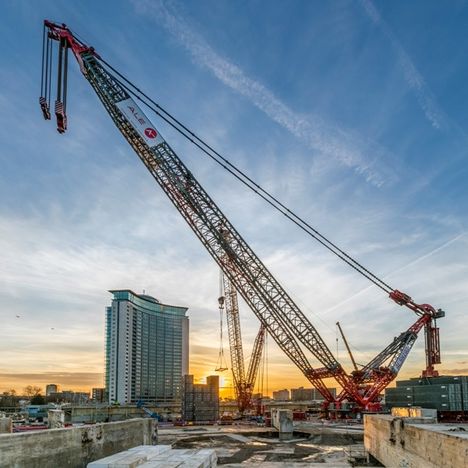 The 4,300 tonne AL.SK190 heavy lift crane is now fully rigged, tested and ready to begin work on site at Earls Court in London.
The AL.SK190 will lift and remove 61 portal beams from over the London Underground lines that lie below the former exhibition centre. The large concrete beams which supported the exhibition centre were installed when the centre was erected in the 1930s and need to be removed to enable a major new development on the site. The smallest beam weighs 80 tonnes while the largest is 1,500 tonnes.
The crane is rigged with 120 metres of boom and is apparently the largest crane ever to be used in London. It will operate within the Earls Court site and will not over-sail adjoining properties. The first lifts will take place in late March. The lifting of the beams will occur overnight after the last District Line underground train has passed through the tunnels beneath. Work is expected to conclude by the end of the year.
Led by Capital & Counties Properties, the Earls Court development will create 8,000 new homes a new high street and a new five acre park, it will employ around 10,000 in the construction process. Demolition of the former exhibition centre to this point has taken contractor Keltbray two years.
Capital & Counties development director Mike Hood said: "We are making good progress at Earls Court to prepare the site for future development. The heavy lifting crane is the most visible part of this work and will be part of the London skyline for the next year. We know there is huge interest in the crane and we are encouraging people to visit the Earls Court Project Rooms for our monthly open day to find out more."
Keltbray technical manager David Rowe added: "By utilising this crane and lifting method, disruption is minimised and the crane's high capacity and precision lifting technology will reduce the overall project timescale considerably. With the successful demolition of the former exhibition centres last year the lifting of the large portal beams is the next big task at Earls Court as we prepare the site for construction. The project team has worked tirelessly to ensure the most appropriate technology was chosen and implemented in order to minimise disruption to our neighbours."
ALE sales manager Giovanni Alders said: "Operationally, this crane can perform lifts previously unachievable and reinforces the innovation seen throughout the whole project. We are looking forward to progressing with the project and executing the first lift."