Liebherr said its mobile harbor crane population in Latin America is quickly growing with more than 50 order intakes in four years. Despite volatile exchange rates, the 2014 year is another strong one for Liebherr in Latin America.
In the last year, the strongest mobile harbor crane available in the market, type LHM 600, has been the most successful Liebherr model in Latin America. In summer 2014 two LHM 600s started operation in Chile.
Compania Portuaria Mejillones S. A. opted for their second Liebherr mobile harbor crane. The LHM 600 is based on a special design. An elongated tower extension ensures that the position of the tower cabin is higher than 37 meters. Besides better sight into the ship for the crane driver, one striking benefit is a higher fulcrum point which eases the handling of bigger vessels. All advantages come without any influence on safety or operational parameters like lifting capacity and travelling speed. The first cranes equipped with this special tower design started operation in Argentina and Uruguay in 2013. The new LHM 600 works side by side with an existing LHM 500, delivered in 2008.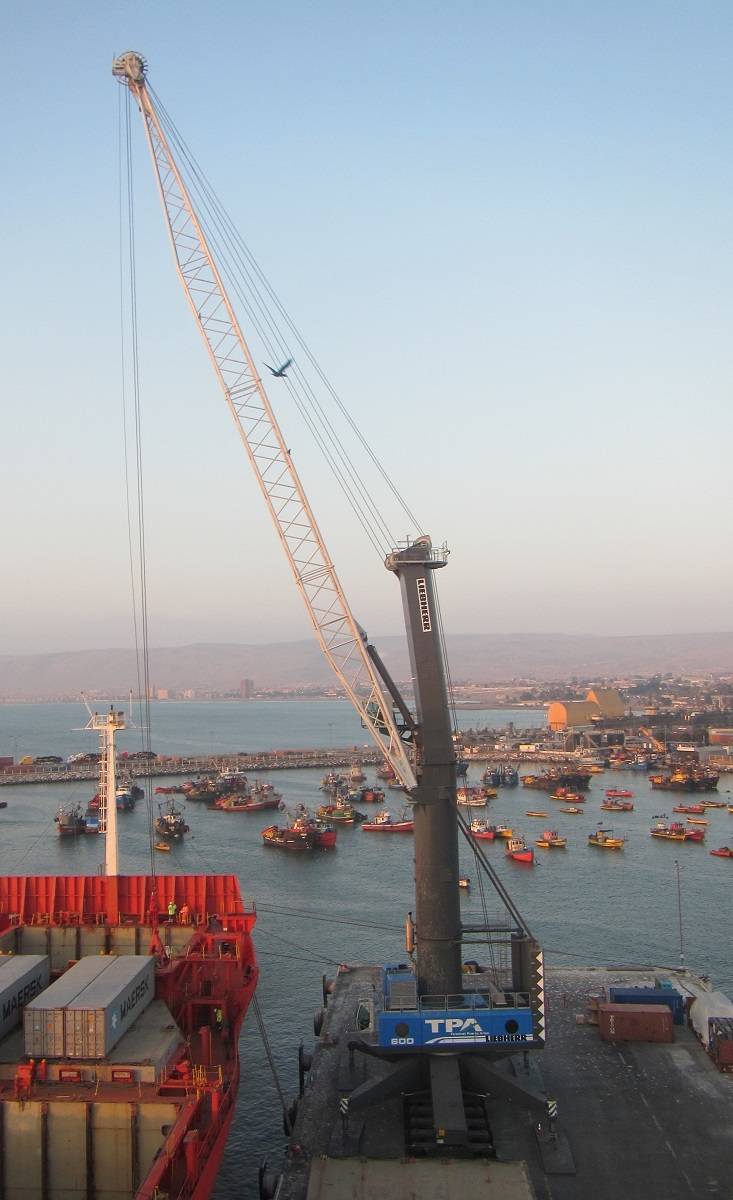 Recently, another LHM 600 added capacity in port of Arica, Chile. Terminal Puerto Arica S.A. preferred this model due to its worldwide proven high capability. The crane is configured for dedicated container handling. It is the first Liebherr mobile harbor crane for this terminal.
In Peru, Callao S.A. has received two LHM 550s, which significantly increase container and bulk capacity in the port. The port has already had two LHM 550s in operation since 2012. Each of the four LHM 550s is equipped with Liebherr's hybrid power booster Pactronic. Now there are seven LHMs in operation in Peru, where Liebherr Maritime Cranes is the clear market leader.
In Guatemala, Manabique Logistics S.A. opted for three LHM 420s, Liebherr's latest mobile harbor crane model with a lifting capacity of up to 124 metric tons and a maximum outreach of 48 meters. These are the first mobile harbor cranes for Puerto Barrios at the coast of the Caribbean Sea. Due to semi-assembled delivery, it took only one week per crane to become operational after arrival. The mobile harbor crane trio started operation in August 2014.
In Costa Rica, Sociedad Portuaria Puerto Caldera SPC decided to enforce its cargo handling fleet with a new LHM 550, which are going to start operation in the third quarter 2014. Liebherr's most-in-demand model is the second mobile harbor crane for this terminal which has operated an LHM 500 and four reachstackers, type LRS 645, since 2007.
In Latin America's biggest country, the Brazilian company Serra Morenaopted for another Liebherr mobile harbor crane. The new LHM 280 is already the fifth machine for the company. Due to its four rope configuration, the crane is configured for highly efficient bulk handling.
Because of the continuously high demand for mobile harbor cranes in Latin America, Liebherr is expecting a strong 2014 year.
liebherr.com