New owner inherits long-standing community contributor
New hands are now at the controls of Gilbeau Crane Service.
Longtime owners Frank and Lee Ann Gilbeau recently passed ownership to Kevin and Bri Inks, who plan to continue Gilbeau Crane Service's strong commitment to the community, which was cemented by the perennial contributions of the Gilbeaus.
Frank and Lee Ann were both raised in Calaveras County. They started their business 30 years ago in 1985 with their first truck, a 1967 64-foot Garland crane mounted on a 1963 1.5-ton Ford truck. Frank, who began his career setting air conditioning units for Bryson Industries in Stockton, saw a need for a crane in Calaveras County.
In spite of this need, business was slow at first, with most of the couple's jobs arriving by word of mouth and local contacts.
"The community wasn't used to having a crane," explained Lee Ann. "No one really knew we were here, so we passed out cards, sent out flyers, stopped at job sites and generally just let everyone know we were here and ready to work."
Once the news spread, Gilbeau Crane Service quickly found a lengthy list of jobs. They soon realized, however, that the crane was far too small for the many lifting contracts that they were being asked to do, so they upgraded. Now the crane service is on its fourth truck – a 27.5-ton Pioneer crane mounted on a 1998 Freightliner truck.
This larger crane, along with the others the Gilbeaus have used over the years, has allowed Gilbeau Crane Service to take on a variety of jobs throughout the Mother Lode, including Calaveras, Tuolumne, Amador and Alpine counties.
And what jobs they are. From their humble beginnings lifting air-conditioner units onto roofs, Frank and Lee Ann – and now Kevin and Bri – have branched out. The lifting and hoisting jobs that Gilbeau Crane Service now undertakes include beams, rafters, trusses, spas, windmills, small planes, tanks, signs, trees and much more. The crane has even lifted such massive objects as cargo containers, cellphone towers and even, on several occasions, the transmissions out of helicopters. The crane is also responsible for setting most of the ore carts into position that visitors observe upon entering Calaveras County.
In addition to paid jobs, Gilbeau Crane Service has done a whole host of volunteer services for the community. This year, for example, Frank and Lee Ann donated the crane to aid in setting the bronze veterans memorial statue in Murphys.
"It's our obligation to support our community because the community has supported us," said Lee Ann and Frank.
Perhaps the most memorable job, however, took place in 2011, when the U.S. Forest Service asked Gilbeau Crane Service to assist in hoisting the national Christmas tree onto a truck that would transport it across the country to Washington, D.C., from its home on Clarksfork Road off Highway 108.
"That was probably my most stressful job," recalls Frank. "I knew that if I messed up, I would disappoint kids all across the country."
Thankfully, Frank performed his job perfectly. With the crane easily lifting the 65-foot tree – it was originally 103-feet tall – and another crane lifting the other end, the tree was safely hoisted and delivered.
Kevin and Bri Inks will carry on the Gilbeaus' commitment to the local area and the community, being lifelong residents themselves. Kevin, himself, is a former carpenter who has always liked machinery and construction.
"We were looking for someone who shared a similar work ethic and commitment to the community," Frank said. "Kevin and Bri have that."
"Over the years, we have worked on hundreds of homes and businesses in the counties for many contractors, homeowners, businessmen and service districts, and we have made many friends along the way," Lee Ann said. "We want to take this opportunity to thank everyone who we have had the pleasure to work for. But now it's time to pass the controls over to a new person, Kevin and Bri Inks."
With Gilbeau Crane Service now entrusted into new hands, the business is poised to remain a fixture of the county and surrounding areas.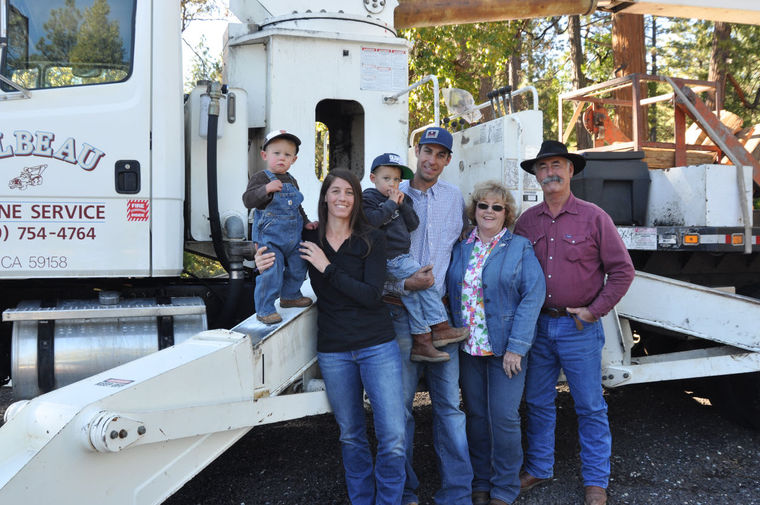 To contact Gilbeau Crane Service, email [email protected] or call 795-4021.
Posted: Friday, November 14, 2014 7:00 am | Updated: 2:30 pm, Fri Nov 14, 2014.