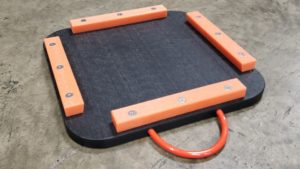 DICA has introduced the Cavity Pad Plus outrigger pads, which joins the company's SafetyTech outrigger pad product line designed for mobile cranes, digger derricks, hi-lift aerials, and concrete pumps. Cavity Pad Plus features a 1-inch-high footbrake with an interior beveled edge. The inverted bevel design traps the outrigger foot and prevents it from sliding off of the pad.
"This is a significant improvement in the design of our original Cavity Pad," said Kris Koberg, CEO. "The inverted beveled design creates a higher level of safety. In addition, the new design has contributed to reductions in manufacturing costs, enabling us to pass savings onto our customers."
Constructed of a proprietary engineered thermoplastic material, SafetyTech pads have crush ratings up to 750 psi and rated capacities up to 325,000 lbs.