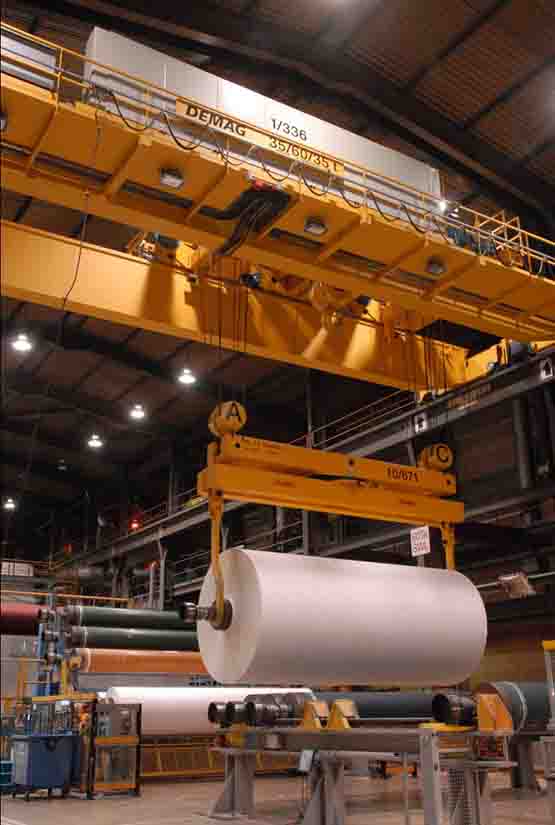 Terex Material handling has installed a Demag double girder overhead travelling process crane at Iggesund Paperboard Ltd's production facility in Cumbria, England. Part of the Swedish Holmen Group, Iggesund manufactures high quality folding box board products, which are used for the premium packaging and graphics markets.
The crane installation was part of an investment in new and upgraded board production facilities, to increase output by 20,000 tonnes per year. The crane was required due to the increased size and weight of the rolls in the new equipment.
The Iggesund production line operates 24 hours a day for 365 days per year, with a reel of board coming off the production line every 30 minutes, meaning that maximum availability and reliability of the material handling system is fundamental to the efficiency of the plant. To meet the specific requirements of Iggesund's production processes, Demag engineers designed a complex reel handing crane, with a range of application focused features.
The solution is a 60t SWL, 20.4m span crane equipped with multiple hoists. These consist of two outer 35t SWL open winch crabs and a central 60t open winch crab. A 52t SWL power slew lifting beam is also part of the installation and is suspended from either the central hoist or the two outer hoists.
The slewing beam is required to lift reels of paperboard and may be lifted by either the 2 x 35t hoists or the 60t hoist. This gives operational flexibility and back-up lifting capacity in the event of a hoist failure. In addition, each crab is also fitted with an auxiliary Demag wire rope hoist, rated at 5t SWL, for faster maintenance functions.
The Demag crane is capable of travelling along the full 257m of the paperboard production line, facilitating a wide range of operational and maintenance functions, but its primary role is the unloading of full reels from the board manufacturing line.
To accommodate the requirement for smooth movement of loads and precision positioning accuracy, the crane features frequency inverters. It has cross travel speeds of 5 to 15m/min, long travel speeds of 5 to 40m/min and hoisting speeds of 0.5 to 5.5m/min, for loads greater than 30t, or 0.5 to 8.4m/min for loads of less than 25t, providing fast and efficient load handling. The crane system is operated by radio remote control or mobile pendant.
Iggesund's manufacturing program dictated that Demag technicians needed to complete the installation of the crane without interruption to the production process. This necessitated detailed planning and project coordination, including the removal of sections of the machine hall roof and wall, to allow the crane girders to be lifted into place.
Iggesund's Projects Engineer, Michael Brew, stated: "Demag's engineers appreciated the specific requirements of our production processes and came up with a multi-functional material handling system, designed to provide maximum operational availability. In the face of stiff competition, they have delivered the best engineered solution for our processes, with a range of innovative features, which have helped us increase efficiency and productivity."