A giant model dinosaur that faced extinction on the orders of planning officers has been moved during a colossal three-day operation.
Owners of Dinosaur Safari Adventure Golf, in Rowley Lane, undertook the move "at considerable cost" to save the 100-foot long diplodocus from demolition.
Southern Cranes & Access was brought in to handle the heavy lifting. Looks like they used a Tadano Faun ATF 90G
The huge statue, which was visible from the A1 Barnet Bypass, was due to be torn down last year on the orders of Hertsmere Borough Council planning officers who said it broke green belt building rules.
But managers at the novelty golf range successfully appealed the notice on the promise they would undertake a beastly operation to move the 20-foot tall creature, which weighs several tonnes.
The monumental task of shifting the animal took three days and used a 90-tonne crane across more than 500 yards of temporary road, which was laid especially for the job.
It has now been moved from the golf centre's entrance to a new location at the side of the 18-hole course.
Scott Sinclair, managing director of Adventure Experience, which owns the attraction, said: "We are pleased that visitors can still marvel at our magnificent Jurassic inhabitant.
"Our dinosaurs are a fundamental asset that establishes our site theme, so we are extremely happy that we have found our diplodocus a new home on the course, allowing visitors to continue to enjoy its prehistoric presence."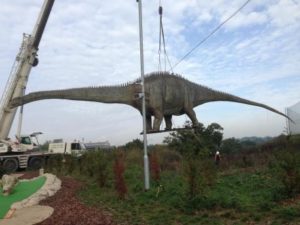 james smyth says…