A 200-foot crane has towered over the Lockwood skyline for several weeks as ExxonMobil Refinery installs new safety equipment and removes some old infrastructure.
The crane, which was trucked to the refinery in pieces several weeks ago and assembled on-site, is installing a large safety valve on one of the refinery towers. Later, it will help deconstruct some old infrastructure.
"It's a project to improve the efficiency of our safety valve relief capacity, and it's on top one of the towers," said Dan Carter, ExxonMobil spokesman. "Since it's here, there's a piece of equipment that we removed during the turnaround in 2012 that we didn't get a chance to haul out. While the crane is here, we might lift (the old equipment) up and cut it up."
Refinery turnarounds are planned shutdowns, during which the major overhaul and repair projects are conducted that cannot be done while the refinery is operational. They take place every couple years and can last several weeks. The last turnaround at the 60,000-barrel-a-day refinery in Lockwood included some upgrades that rendered part of the refinery unnecessary.
Carter said the infrastructure cut from the refinery will be recycled, though he didn't know where the steel would be shipped once cut up.
While big, the ExxonMobil crane isn't the largest to work at a Billings refinery in recent years. The world's fourth-largest crane installed two 350-ton coker drums at the Phillips 66 refinery in 2012. The boom on that crane was 500 feet tall.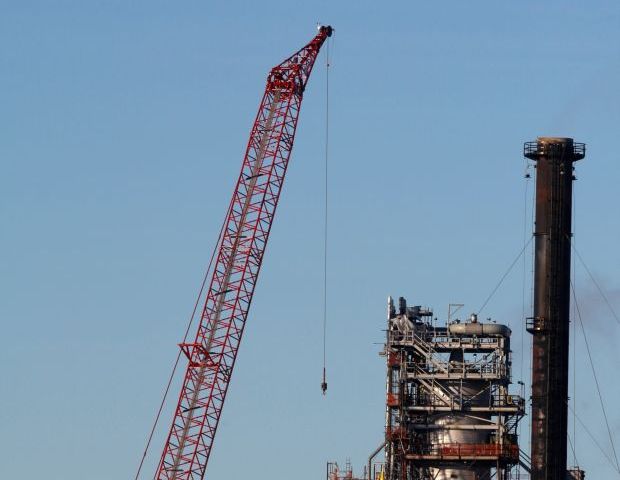 Read more: http://billingsgazette.com/news/big-crane-brought-in-for-refinery-work/article_64db4eb1-feec-5bea-8096-a081736d7801.html#ixzz3OoMh2ryB