The two-day job to reunite Bertha with its front end has concluded, but the massive face of the machine is not off the hook just yet.
While the 2,000 ton front end completed its journey to the bottom of the 120-foot access pit Tuesday afternoon, it remains connected to the crane. It will remain suspended as crews reconnect wires and hoses between the face and the body of the boring machine.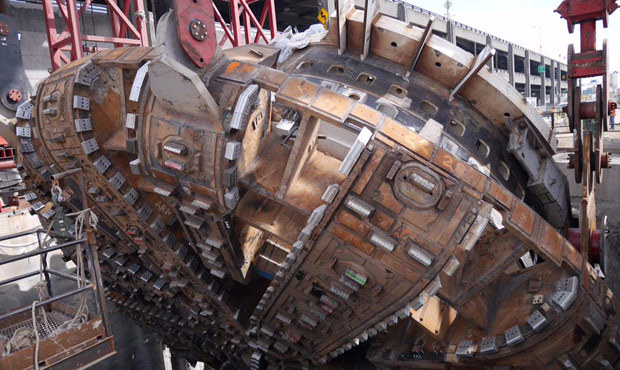 The Washington State Department of Transportation noted Monday that there was no set schedule to lower the massive front end into the pit where the body of Bertha remains sticking out of a wall. It did estimate that it could take 14 hours. In the end, it took all of Monday and Tuesday morning.
Bertha's front end is composed of a cutterhead, motors, and a new main bearing assembly. Bertha also had new motors installed over the weekend.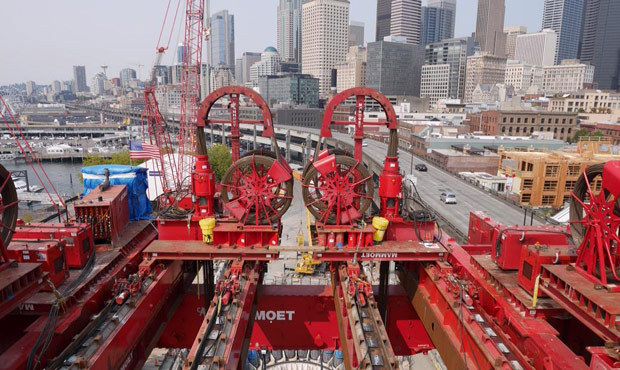 By 5:30 p.m. Monday, the massive front end was only part way down the pit. The crane crews took a break overnight, and plan to continue the cutterhead's journey Tuesday.
Next up, three pieces of Bertha's outer shield are expected to be moved into the pit. Those pieces will be reassembled at the bottom. Bertha will then go through testing to ensure it is ready to drill again.
Mammoet is the company hired for the colossal move. The company specializes in heavy lifts and has previously lifted a Russian nuclear submarine from the floor of the Barents Sea. Mammoet's crane is supplied with seven miles of steel cable and can handle up to 2,400 tons.
Source: MyNorthwest.com