Ottertail, MN (WDAY TV) – A new event made for a smashing time at the Ottertail Pumpkin Festival this afternoon.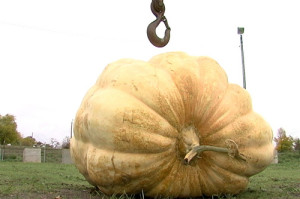 For the first time, they dropped a 1,000-pound pumpkin from a height of 70 feet.
All that work raising it in the patch, gone in a burst of orange.
It starts as just a tiny seed. But with a little love, it can grow into this.
Joe Werner has been growing giant pumpkins for three years.
Werner: "A giant pumpkin itself is like having a pet. If you want to get the biggest pumpkin it's like having a competitive pet that you have to train every day."
This one weighs in at a whopping 1,031 pounds, and after just a few months of life, it's about to meet an explosive end.
Werner is giving up this pumpkin for the Ottertail Pumpkin Festival's first ever-pumpkin drop.
Werner: "It should throw chunks of pumpkin a ways. It should make a nice thud."
A 100-foot crane stands at the read. Organizers chose a special guest to do the honors.
"What are you about to do?"
"I'm going to pull the rope!"
With a burst of seeds, the existence of this giant pumpkin ends…
"It's like a rock falling from 100 feet!"
"It like, hit the ground and exploded."
But with kids snatching up as many seeds as possible out of the messy, sticky piñata, it's a chance for new pumpkins to grow in its place.
Werner holds the Minnesota record with a pumpkin weighing 1,700 pounds.
Of course, he chose not to smash that one.
By:Â Becky Parker, WDAY