LITTLE CURRENT—A 365 ton crane, which is being used on the construction of the McLean's Mountain Wind Farm project, overturned yesterday along Green Bush Road.
"We are investigating a vehicle incident involving one of
White's (Construction)
cranes which overturned yesterday on Green Bush Road," McLean's Mountain Wind Farm project Manager Rick Martin told The Expositor Friday afternoon. "We are thankful that no one was injured nor was there any fuel leaked as a result of the incident. We are working closely with White, the Ministry of Environment, Ministry of Labour and the municipality (of Northeastern Manitoulin and the Islands), as well as our (Northland Power) own safety and incident review team to fully review the incident."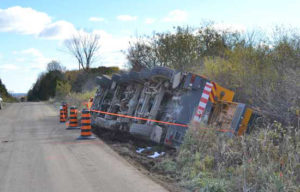 Mr. Martin explained that there is an extraction plan in place and that Green Bush Road will be closed tomorrow (Saturday, October 26) during the process. Though the plan had not been released to the public, Mr. Martin did confirm that a crane had been brought in to assist with the extraction process.
"Also, there is a team there right now performing preventive maintenance such as laying absorbent socks," said Mr. Martin.
When asked if there had been any leaks at all, Mr. Martin stated that to his knowledge there had been no leaks, "but a full and proper investigation will be conducted after the crane is removed and if there are any issues, it will be cleaned up to full ministry (of the environment) standards."
"This is an unfortunate incident, but we are thankful no one was hurt and the entire process is being done by the letter," concluded Mr. Martin.