The commodities supercycle may be over, and mining still in the dumps, but that didn't stop half a million visitors from flooding the sprawling grounds of the Bauma 2016 trade fair last week.
As the six-day trade show, the largest in the world, came to a close on Sunday, organizers reckoned around 580,000 visitors streamed through the gates of the fair, located on the site of the old Munich airport – a rise of over nine percent compared to the last Bauma three years ago. Show organizer Messe München GmbH said after Germany, the top ten countries of origin among the visitors were Austria, Switzerland, Italy, France, the Netherlands, UK, Sweden, the Russian Federation, Poland and the Czech Republic.
A total of 3,423 exhibitors—1,263 from Germany and 2,160 from abroad—from 58 countries presented their products, developments and innovations on a record 605,000 square meters of exhibition space. Exhibitors from outside Germany accounted for 63 percent of the total—higher than ever before, according to a press release from Messe Munchen.
"The response from the participants this year was amazing. The visitors at Bauma always come looking to invest, but this year the exhibitors' order books filled up much faster than expected. Many exhibitors are talking about a record level of demand at bauma 2016. And that is an extremely positive sign in this current uncertain climate," said Messe München Chairman & CEO Klaus Dittrich.
Liebherr, the Switzerland-based manufacturer of heavy equipment including the largest class of mining haul trucks and excavators, had an impressive outdoor booth which included a sleek, contemporary office building that took five months to assemble. The company's 385-tonne T264 mining truck was a hit among visitors many of whom posed for photos in front of it. The truck bed even served as the playing field for a ping pong grudge match between Germany and Austria. The "Match in the Mining Truck" resulted in the Germans exacting revenge on the Austrians after last year's defeat at the 2015 European championship final. Liebherr was also showcasing its new 200-tonne excavator, the R 9200. The machine's 12.5-cubic-metre bucket is the biggest in its class and is designed to match mining trucks with payloads of up to 140 tonnes. The Komatsu PC7000 mining shovel was also one of the most popular and impressive machines to witness up close.
The visitors at Bauma always come looking to invest, but this year the exhibitors' order books filled up much faster than expected.
"Bauma 2016 was a tremendous success for Liebherr. We received many orders from a wide variety of different markets. In some segments our expectations were even exceeded," Stefan Heissler, a member of the Board of Directors of Liebherr-International AG, told Messe München. Erwin Schneller, managing director of SBM Minerals, reported that the company's booth received visitors "from Chile to Canada, from China to Russia, from Africa to Norway. My personal highlight was that we signed up some unexpected sales at the show."
The upbeat reports from Bauma come despite some dismal numbers from mining suppliers and equipment manufacturers, including Caterpillar and Joy Global (NYSE:JOY). The latter's sales fell by 25 percent in the first quarter, and the Wisconsin-based equipment maker showed a net loss of $40.2 million compared with a $30.5-million profit in the year-ago quarter. Sales at Caterpillar (NYSE:CAT), the world's largest heavy equipment manufacturer, are down by over $20-billion from a peak four years ago, and Cat said last September it plans to cut up to 10,000 jobs in a three-year restructuring program. Peoria, Illinois-based Caterpillar expects another 10% decline in revenue in 2016 to around $42 billion, but executives still can't predict a bottom for the industry, saying in January that they can't see any signs of improvement.
Still, Bauma was not the occcasion to dwell on the negative, and a number of new mining products were rolled out. These included:
The new Certiq machine monitoring system from Atlas Copco Rock Drills AB. The Certiq system is based on telematics, i.e. wireless data transmission, allowing the owners and operators of above and below-ground drilling equipment for example to monitor the performance of their machines at any time and from any location.
Bell Equipment complemented its E series generation of articulated dump trucks with four new models. With the current Bell B25E and B30E dump trucks, the new mid-range B35E and B40E models and the new B45E and B50E large dump trucks, Bell continues to focus on the "classic" categories and still offers the world's largest 6×6 program, according to the company.
Cummins Inc. presented the next generation of ultra-clean engines which meet the EU's Stage V emissions regulations for construction machines and mining/materials handling equipment which are due to come into force in 2019.
Deutz AG unveiled its newly developed TCD 2.2 diesel and gas engine as well as the established TCD 2.9 in a gas version. With up to 55 kW, the TCD 2.2 is a further option for materials handling and compact construction machine applications in particular. Unusually, the engine was launched in both a diesel and a liquid gas (LPG or fuel gas) version.
Keestrack N.V. presented the new H4 Caterpillar mobile cone crusher (35 to 50 t transport weight). According to Keestrack, the innovative crusher control and monitoring solutions which have a direct influence over the output capacity and product quality are particularly groundbreaking.
With the Mobicone MCO 11 PRO mobile cone crusher, Kleemann GmbH, a Wirtgen Group company, launched its newly developed PRO Line. The cone crusher with a maximum feed capacity of up to 470 t/h is equipped with the Continuous Feed System (CFS) which ensures efficient use of crushing capacity, says Kleeman.
Liebherr-International Deutschland GmbH launched the Liebherr PR 776, the first infinitely variable hydrostatically powered crawler tractor in the 70-ton category. The machine is powered by a Liebherr twelve-cylinder diesel engine with a maximum power of 565 kW. It has a maximum operating weight of 74 t and can be equipped with blades with a capacity of 18 m³ (semi-U blade) or 22 m³ (U blade).
MTG, of Premià de Mar, north of Barcelona, expanded its range of teeth for rope shovels with the new RSS and RSXX tooth designs. These two new designs complete the MTG Systems Starmet range of teeth for rope shovels.
SBM Mineral Processing GmbH offered the jaw crusher STE 100.60, newly developed for crushing limestone, granite, building rubble and also slag. The new overload protection function (Gap Release Control) prevents "unbreakable parts" from damaging or blocking the crusher.
Siemens offered mining companies a gearless drive system for SAG mills with a tube diameter of 42 feet. This enables throughput to be almost doubled in comparison with the 38-foot mills commonly used today. With this innovation, Siemens is responding to the rising demand for larger and more powerful drives in mining, the company stated.
With its Integrated Skip Conveying And Crushing System, ThyssenKrupp Resource Technologies offered a sustainable and cost-effective alternative. Unlike in truck haulage, where not only the payload but also the deadweight of the truck has to be moved, the Integrated Skip Conveying And Crushing System only uses energy to transport the payload.
The new 55-tonne capacity A60H from Volvo Construction Equipment (Volvo CE) meets growing customer demand for articulated haulers with larger capacities. The Volvo A60H's higher payload—a 40% increase on Volvo's A40 models—significantly lowers the cost-per-tonne ratio for hauler customers, according to Volvo.
The Caterpillar tunneling excavator 328DLCR from Zeppelin Baumaschinen GmbH has a specially designed boom and a tail swing radius of just 1.90 m. The boom is optimized for European tunnel profiles and for low working heights, enabling the excavator to achieve an advance of 2.30 m at a working height of 5.50 m.
Read the full lineup of new mining equipment and products showcased at Bauma here and here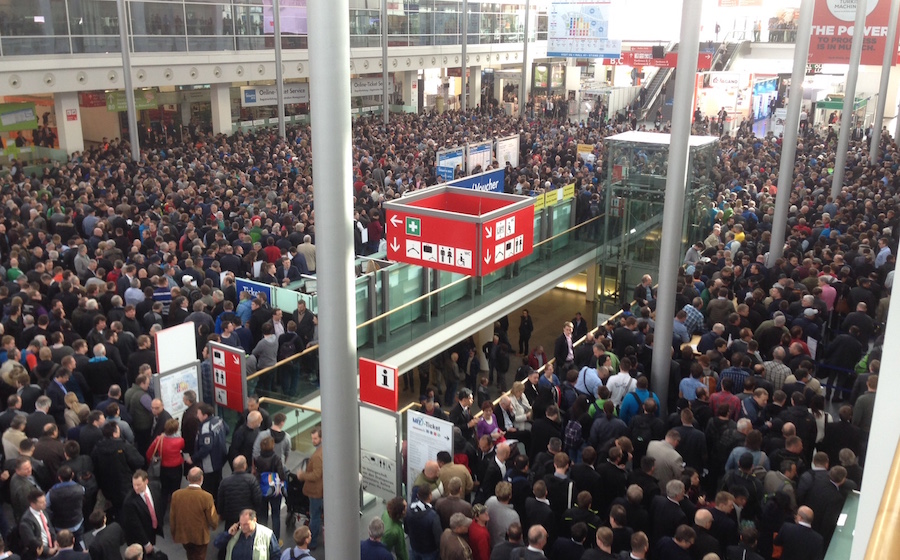 This article originally appeared at www.mining.com