CWI Crane & Rigging has purchased a new 300 ton capacity 2019 Demag AC250-5 from Empire Crane Company's New England Branch. Owner Chet Chludenski had several reasons for choosing this model including it's safety features, IC-1 Plus variable outrigger flexibility, and the Demag and Empire Crane product support teams. Chludenski also said "the road ability of the carrier for Massachusetts being under 130,000lbs with no counterweight is a huge plus for us because we won't need to get new permits every time we move to a different job."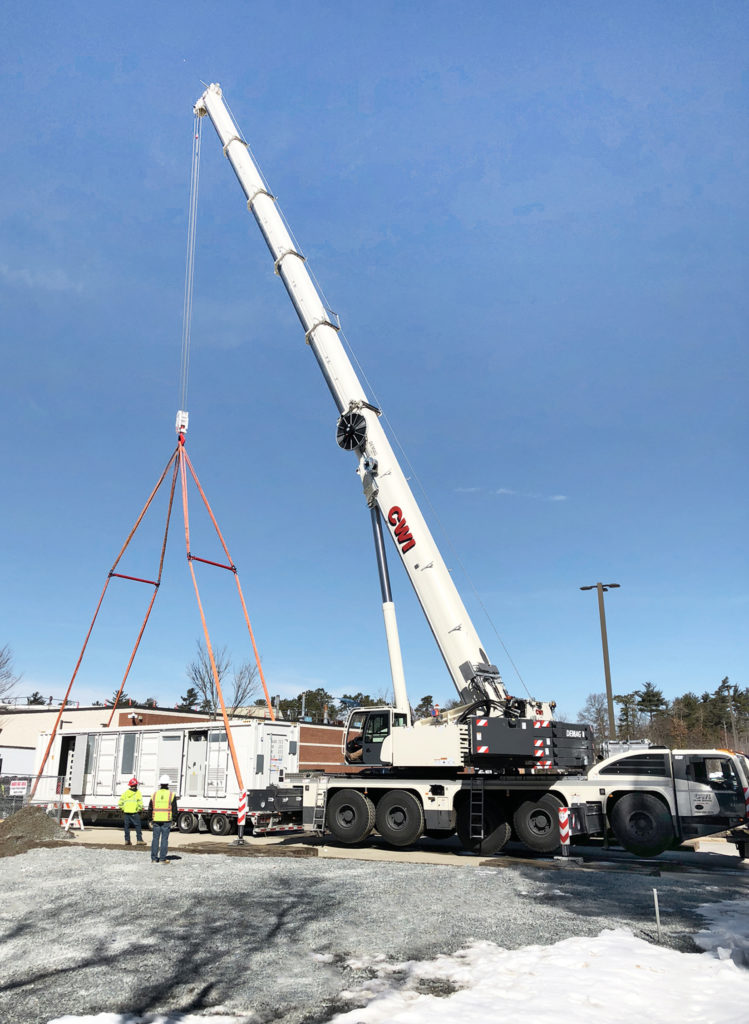 With a maximum system length of 356.6', the 5-axle 300 ton capacity crane is going to give CWI a huge advantage because they will no longer have to rent cranes in the 300 ton class. Along with larger jobs, they are looking to do more work in the solar sector setting modules for storing energy. According to the Solar Energy Industries Association, in 2018 10.69% of Massachusetts electricity was solar powered and they expect this to double by 2024. Empire General Manager Justin Melvin commented, "you see more and more solar energy fields popping up all over Massachusetts; the AC250-5 is sure to be very busy and our team will be there to support it every step of the way."
The crane's first job was helping to install two 65,000lb battery modules that are used to store solar energy. This job was completed for ELM Electric, at Acushnet Co in New Bedford, MA (a leading producer of golfing products such as Titleist golf balls). The stored energy will be used during peak hours to help keep energy costs down. To complete the lift, they set the new AC250-5 at a 45' radius with 50' of rigging & spreader bars. This allowed them to have much more capacity than needed to successfully complete the job safely and efficiently.
CWI head mechanic Nick Masso and operators Ed and Todd Parker worked for 4 days with Empire General Manager, Justin Melvin, Empire Service Tech, Kyle Pitre, and Terex Service Rep., Henry Simmelink, to PDI and familiarize the team with all aspects of the crane. This included going through the new IC-1 Plus system that will allow them to use asymmetric outrigger setups without loosing lift capacity. Pitre is a Demag Qualified Technician who has completed many technical training courses along with years of field experience. He said, "IC-1 Plus in the new generation of Demag [all terrain cranes] is what really defines Demags from other at's in the market".
"We've had a strong relationship with Empire Crane over the past 25 years.' Chludenski said, 'I purchased this unit from them because of the sales department's flexibility to make this deal happen, and the knowledgeable and local service department".
Source: Empire Crane