Mammoet recently teamed up with Fracht to successfully transport all heavy cargo for UTE Porto de Sergipe, a 1,500 MW combined cycle power plant in Brazil. The plant is the largest to be built in the region and is projected to provide additional power during dry seasons to meet 15% of energy demand in the area.
Mammoet's experience in complex barge roll-offs led to the implementation of a specialized configuration of trailers with longitudinal spacers, which would optimize the capacity at the pier structure.
This solution allowed for an increase in the allowable roll-off weight from 130 tons up to 240 tons, meaning that more heavy cargo could be accommodated at the port than originally planned for. By stretching the limits of the port, this plan saved the need for roughly 20 barge trips which would have added approximately 140 days to the schedule.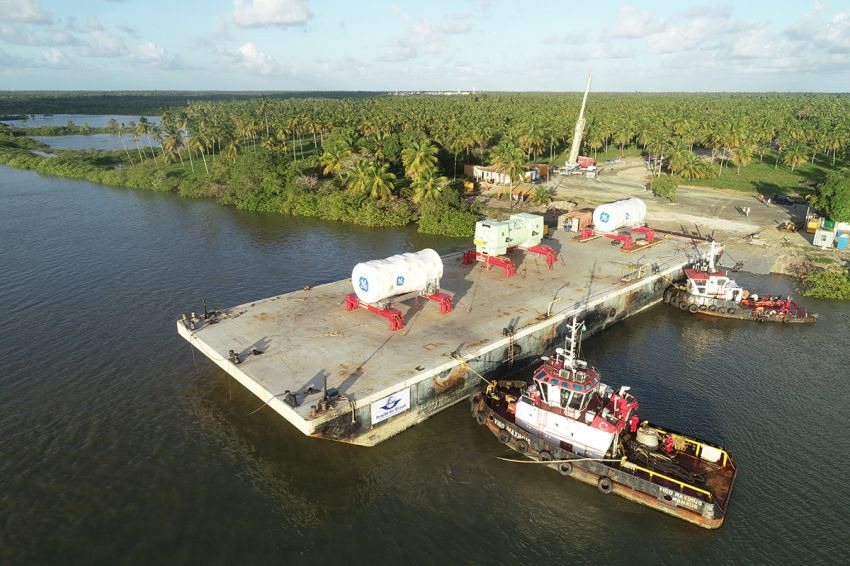 Additionally, Mammoet prepared a jetty nearby for offloading the cargo that was even too heavy for the newly reinforced port. Mammoet's team added efficiency with the creation of a temporary 200-meter road over a neighboring swamp area which linked the port with the jobsite. By using this path, the crews were able to avoid road transportation and reduce the impact on local traffic and avoid the need for added logistics to complete the moves. The heaviest piece to be transported was a 400-ton generator, and several 250-ton modules were challenging due to their 30x8x8 meter dimensions. Once on site, Mammoet was responsible for lifting each of the pieces into place using crawler cranes and a gantry system.
The plant is expected to generate 2,500 direct jobs during construction and up to 200 jobs during its operational phase of 25 years.
Source: Mammoet