As one of the largest crude oil processing locations in Germany, every hour of downtime at PCK Raffinerie GmbH's (PCK) Schwedt refinery has a significant impact. So, when PCK needed two new cracking columns as part of a vital upgrade, they required a trusted partner who could transport and install the columns without any disruption to the surrounding live plant. Having supported PCK at its Schwedt refinery for nearly 20 years they approached Mammoet.
Eight months earlier, Mammoet had begun a meticulous planning process in close collaboration with PCK. The columns would be delivered and installed in several sections. Being involved from an early stage meant that Mammoet was able to provide recommendations for the dimensions of the column sections during the design phase. This insight, together with the detailed knowledge of the site layout and the transport route, helped Mammoet find maximum efficiencies and deliver the project within the tight schedule.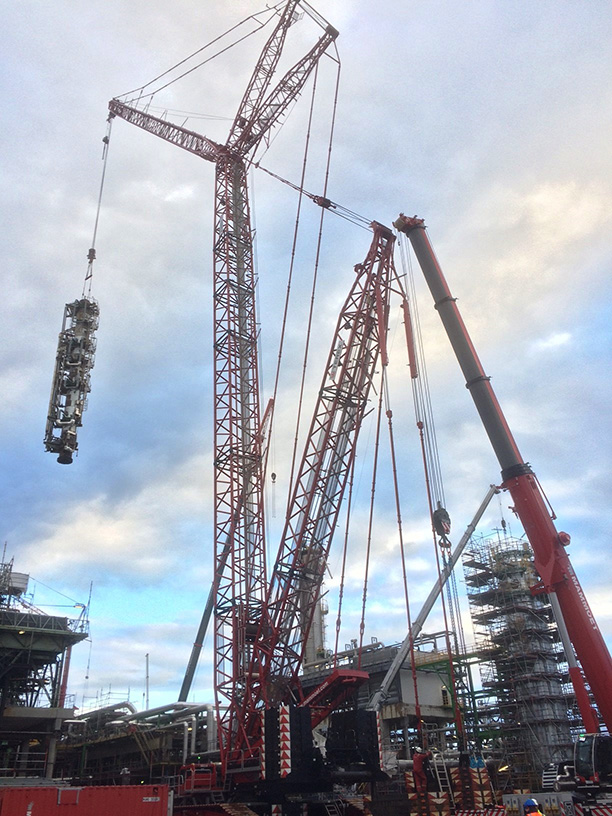 According to Gernot Öder, Mammoet's Manager Crane and Transport Projects: "Being able to advise on the dimensions of the column sections was invaluable to this project. Mammoet's design insight at an early stage meant that we were able to work with the column sections as larger pieces. This was a time saving decision, as transporting the columns in larger pieces requires fewer journeys and means they can be assembled more efficiently onsite." Once Mammoet had successfully transported the reactors to the refinery site, the next stage was to complete the installation. However, on the day of the lifts, high winds meant that it was no longer safe to install the columns during the scheduled time slot. With every day being of paramount importance for the client, Mammoet completed the lifts during the night, when it was safe to do so, to ensure that the project was still delivered on time. Gernot continues: "The wind was unexpected. Safety and efficiency are priorities, so to complete the lifts by the deadline we worked through the night. Our operators worked alternate shifts, completing the technically difficult lifts over the pipe racks using two CC 3800 crawler cranes." Being involved in the early phase, Mammoet utilized its knowledge, gained throughout a longstanding, 20-year working relationship to provide a solution that ensured the upgrade was completed safely and on time.
Source: Mammoet