German equipment manufacturer Liebherr has won an order to supply four HC-L series tower cranes for the construction of the Kingdom Tower in Jeddah, Saudi Arabia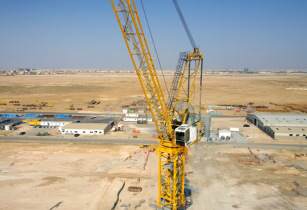 Liebherr tower cranes at work on the Kingdom Tower in Jeddah, Saudi Arabia. (Image source: Liebherr)
Liebherr officials stated that four luffing jib cranes – three 280 HC-L 16/28 and one 357 HC-L 18/32 Litronic – would be used to build the Kingdom Tower. Presently, the cranes' lifting capacities vary from 11 to 12 tonnes at a radius of 35 metres, they added.
The 357 HC-L luffing jib crane would place the top of the building at an approximate height of 1,000 metres. In order to reach this height, the cranes would have to move upwards in several stages. To aid the ascent, the cranes would be positioned either on the sky terrace of the building or on cantilever platforms mounted on the sides of the structure, revealed Liebherr.
According to the equipment company, the reliability and logistical outcome of the crane movement is crucial, which would eventually determine the success of the project.
The Kingdom Tower would be the tallest structure in the world, when completed. The structure would be around 1,000 metres high and also have the highest ever viewing platform at a height of 630 metres.