PASCAGOULA — At least five people were injured, one of them seriously, in the collapse Wednesday of two cranes used in moving part of a ship under construction at VT Halter Marine, authorities confirmed.
Pascagoula Police Chief Kenny Johnson said police and firefighters responded to a report of an accident at the yard on Bayou Casotte Parkway at 2:17 p.m. along with officials at the Jackson County Office of Emergency Services.
Jack Prendergast, VT Halter executive vice president, said a group of cranes in the yard were lifting a "bow module and there was some sort of mishap. We don't have all the details."
Two of the yard's largest cranes collapsed and one hit the corner of a warehouse in which people were working.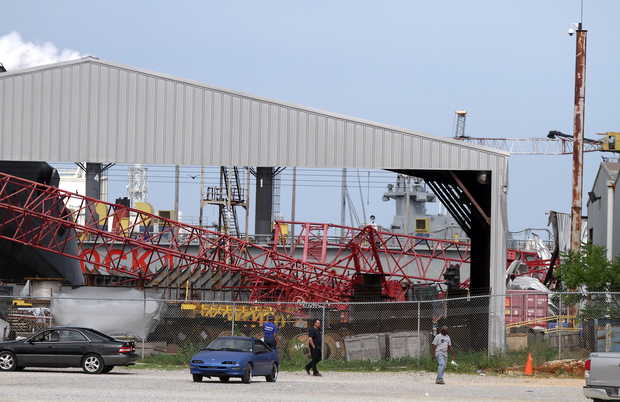 Prendergast said his team, the crane company, the insurance carrier, the state DEQ and the local police department are participating in the investigation.
He said, "Our thoughts and prayers are with the families of the injured."
VT Halter released the production crew after the accident, sending home 800 employees. But this morning, the 6:30 a.m. shift likely will be asked to report to work.
Prendergast said workers need to check the company's website, or the work hotline they use when there are weather issues.
He told the Sun Herald he was in the conference room at the Pascagoula yard's headquarters and heard a loud noise.
"There was a bang but we have a lot of trucks rumbling up and down the highway so that didn't seem unusual at first," he said.
The yard has a variety of different-sized cranes. Two of the eight largest were those that failed.
Earl Etheridge, county emergency services director, said, "One of the cranes totally collapsed and landed on top of the tool warehouse.
"One of the injured was in the tool warehouse and the Pascagoula Fire Department had to get him out."
Four were taken to Singing River Hospital and one was airlifted to the University of South Alabama Medical Center.
In 2009, two people died and four others were injured after a flash fire in a tank on a 120-foot tugboat at the company's Escatawpa yard.
The crew was cleaning a tank on the tugboat to ready it for painting when a fire started, officials said.
OSHA found 17 willful and 11 serious violations, fining Halter $1.3 million after that accident.
OSHA concluded the workers had been sent into a confined space with an "explosive and toxic atmosphere."
In 2012, a 66-year-old died from blunt-force injuries while working in the sandblasting area at the Pascagoula shipyard. The company was not fined in that instance.
VT Halter employs 1,600 people at three yards in East Jackson County. The Pascagoula yard along Bayou Casotte has about 1,000 employees, including engineers and production crew.
The others are at Halter Moss Point along Mississippi 63, and Moss Point Marine north of Interstate 10.