Skyjack recently sold three Skyjack Tier 4 Interim compliant ZB2044 telehandlers to Coastline Equipment. The California-based company purchased the three Skyjack ZB2044 in a move to win more government contracts. Coastline usedCONEXPO-CON/AGG 2014 to showcase its orders for the new telehandlers, which will boost the company's rental fleet further still.
"The order for 2014 was primarily for the Tier-4 Interim engines, that's what we wanted," said Terisa McConnell, branch manager, Coastline Equipment-Crane Division. "We have a lot of government jobs we are bidding on that requires the Tier-4 engines and we needed the telehandlers for that."
The new Tier 4 Interim compliant ZB2044 telehandler has a maximum capacity of 20,000 Ibs, a three-section boom, a maximum lift height of 44 ft 11 inches and a maximum forward reach of 27 feet 5 inches. With the engine update, the telehandlers also received a facelift and now feature Skyjack's brand colors of orange and gray.
"The order will keep our rental fleet young and reliable," McConnell said. "Most of our rental fleet feature Tier 3 engines, so we'll phase out some of our older equipment as the new ones come in."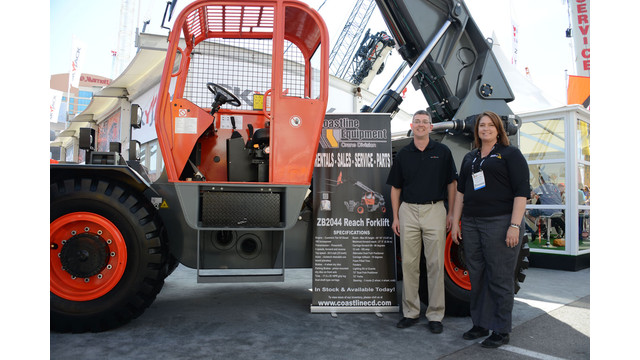 Skyjack delivered the first telehandler in March during CONEXPO in Las Vegas. The remaining two will be delivered during spring and summer. The telehandlers will be used in the California area.
Working wonders for construction and mining
When Coastline first added Skyjack equipment into its rental fleet, it was new for their customers, but now Coastline customers are also big fans.
"It's a very tough machine. We have very little downtime and when we do, usually that's due to customer damage," McConnell said. "Our customers have used equipment from other companies, but they prefer Skyjack equipment. Customers know it and like it — the ZB2044 is just a workhorse."
Craig Truscelli, Skyjack territory manager for Northern California and Nevada, worked with Coastline to determine the best machine for its rental fleet.
"For Coastline, the ZB2044 is a perfect niche machine," Truscelli said. "Although the 20,000 lb capacity and maximum height statistics are is noteworthy in them- selves the real strength of the machine is its strength throughout the load chart. So that with outriggers deployed it can lift 12, 000 lbs to max height; 10,000 lbs to 16 ft reach and 7,000 lbs to maximum reach. This is almost crane like performance. Coastline does a lot of crane work, but in many situations the telehandler is a more flexible solution."
In the past, Coastline used cranes to elevate workers so they could strip old wood from overhead bridge structures by hand, but now the company uses the ZB2044 to pull the wooden forms off and strip the bridge to the ground in a timely, safe and efficient fashion.
"The ZB2044 is a robust machine that can handle significant weight loads whereas smaller machines don't have that capability," Truscelli said.
Truscelli says the telehandlers complement Coastline's rental fleet and will be a good asset for the company to meet increased demand in California's construction industry. Apart from construction projects, the ZB2044 are also used as assist machines for mining jobs.
"We work in the mines in northern Nevada and that's where it's been of good use to us, as well," McConnell said.
From dealer to loyal customer
"We've continued the relationship with Skyjack to keep the line for our customers," McConnell said. "We like working with Skyjack because the machines are simple to use and their support is always reliable."
Established in 1984, Coastline Equipment has seven branches offering new equipment, rentals and customer support on the west coast. The company has locations in Long Beach, Santa Ana, Oxnard, Sylmar, Santa Maria, Sacramento and Bakersfield.