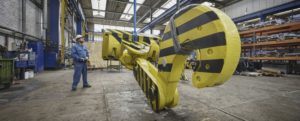 Damen Anchor and Chain Factory (AKF) in the Dutch city of Schiedam has completed the refurbishment of 12 giant lifting hooks for Tata Steel in Ijmuiden, also in The Netherlands. Each hook has a lifting capacity of either 225 or 240 tonnes and they are used to lift the enormous bowls than carry and pour out molten iron and steel in steel foundries.
To ensure safety and efficiency at steel works, all such lifting hooks undergo regular inspection and repair. This is determined for each set of hooks based on its operational profile. Tata Steel transported its hooks to AKF where they were dismantled (each is made up of a series of plates), inspected and repaired as required.
They were then reassembled and realigned, and 42 millimetre rivets were used to bind each hook into a single, solid structure. The final stages of the process then see manganese sleeve bearings pressed into the arms, Hardox plates welded on to the lifting areas and rubbing plates welded onto the lifting hooks to protect them from damage.
"Our ability to handle heavy-industry projects such as this demonstrates the capabilities that we have at AKF," said general manager Laurens van Gelder. "We have both the skills and equipment to fabricate and repair very large-scale steel components of all types to the highest tolerances, and welcome enquiries from all sectors."