Bridgeview, IL October 9th, 2019 – Imperial Crane Services, Inc. is celebrating its 50th anniversary. The same commitment to safety, service, and quality has helped Imperial Crane establish a loyal customer base when it opened its doors in 1969 with one single crane, owned and operated by the late John Bohne. Today, the company is managed and owned by a second generation of family members, sons BJ and Lance Bohne. Since its beginnings, Imperial Crane has seized every change and major shift in the crane rental industry as an opportunity to evolve and reinvent itself for their growing customer base.
After almost 50 years of crane rental industry experience, this is what you can continue to expect from us.
Best safety record in the industry recognized both locally and nationally.
Four locations throughout the Midwest which includes our newest locations in LaSalle Peru, IL and Benton Harbor, MI
Largest fleet of cranes ranging from 6-600 tons. $5 million of expanded fleet coming in 2019
24-hour service, field estimators, a centrally dispatched fleet, permit expediting and the latest lift planning technology
Newest fleet of Merlo telehandlers with lifting capacity ranging from 19 feet and 96 feet with load capacities between 5,500 lbs. to 26,500 lbs
Imperial's daily operations are dedicated to the highest standards in safety, service and quality. State-of-the-art technology and frequent updates to equipment and procedures are the bedrock of Imperial's work and service. From receptionist to the foreman, customer service is our priority. Imperial Crane ensures that our employees are the most skilled and highly trained in the industry, allowing us to rise above the competition. Imperial has expanded into new markets along that way catering to the industrial, mechanical, wind, power, petro-chemical, and transportation industries The company continues to remain a dealer for Elliott, Tadano, Merlo and Barko.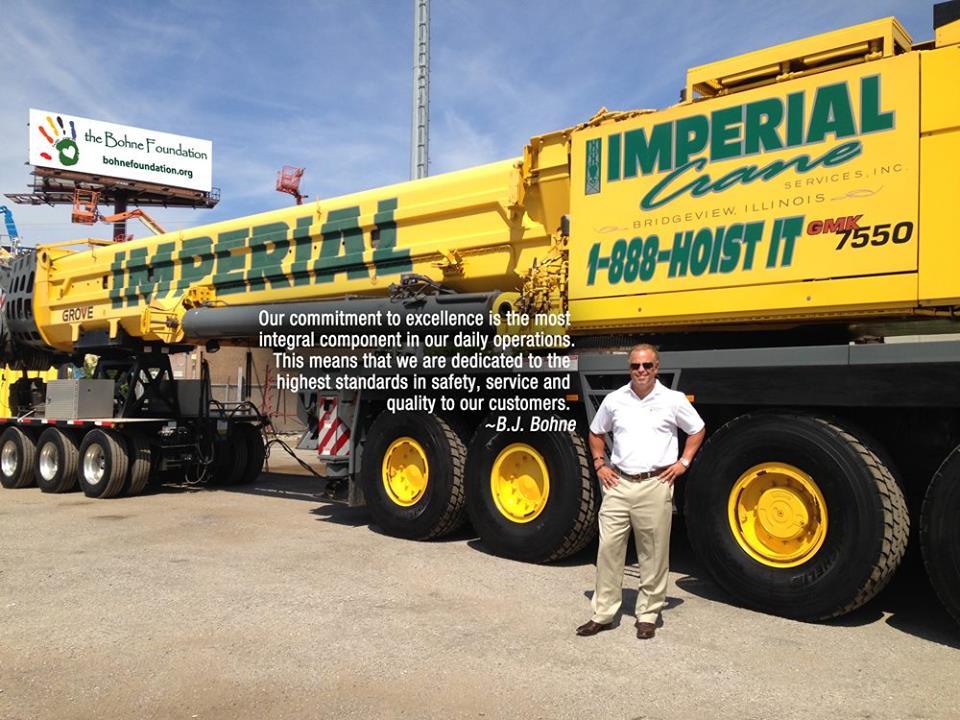 Starting as a one crane operation, Imperial has grown their rental and sales divisions to create a worldwide organization. Imperial Crane is ranked as one of the top 25 crane rental companies according to ACT (American Crane & Transport) and was awarded the family business "Business in Excellence" award from the Daily Herald Business Ledger.
Source: Imperial Crane Services