Rick Bohne, Jr. of Imperial Crane Services explains how lift planning software is used. John Skelly reports.
The planning stages of a lifting project don't always get a lot of recognition. The months of research and calculations that go into bidding a project, selecting the right crane, deciding where to position it and all sorts of other considerations are half the battle. To get a better understanding of the behind the scenes work, we reached out to Rick Bohne, Jr., construction coordinator of Imperial Crane Services, Inc. and Imperial Power Services, Inc., a division of the company that works in nuclear power plants. Bohne, Jr., was gracious enough to explain just about everything that goes into lift planning, including how lift planning software aids him in the bidding process and how sometimes it's preferable to draw out a lift by hand. Either way, as Bohne, Jr. said, even the most experienced person in the industry benefits from seeing an image.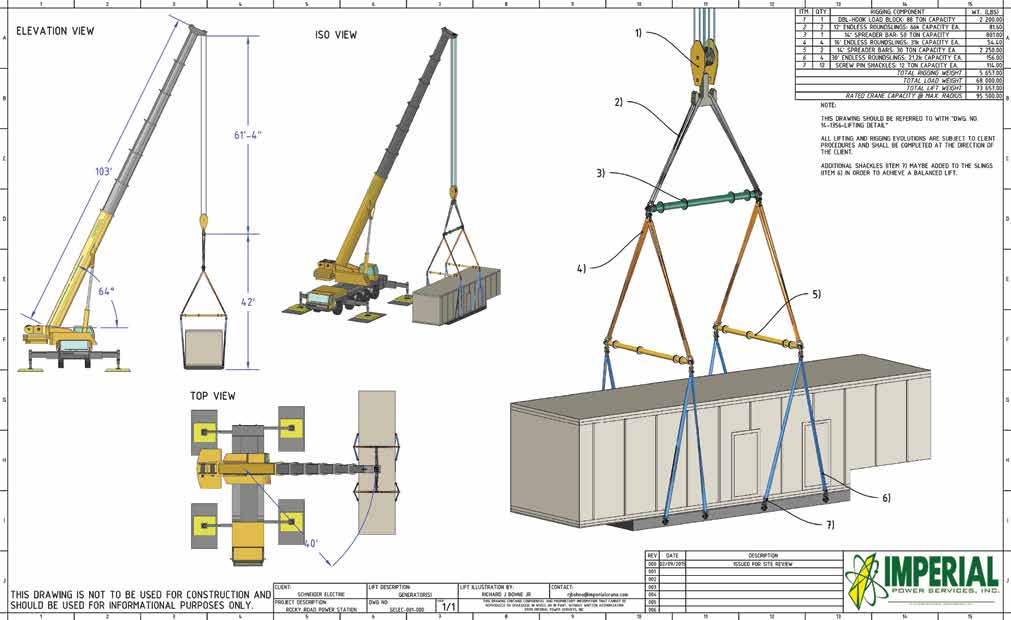 HOW DOES LIFT PLANNING SOFTWARE FACTOR INTO THE PROCESS OF BIDDING A JOB/GETTING A CONTRACT? DO YOU ALWAYS PLAN OUT A LIFT ON THE COMPUTER USING A SPECIFIC CRANE BEFORE YOU BID ON A JOB?
The type of job will dictate whether or not we generate a lift plan prior to being awarded the work. We have a few customers with which we've formed a bit of a partnership and for these bids we tend to go a little further with drawings, not because they're preferred clients, but because the relationship allows us to plan a lift in a manner that suits our client's constructability needs. With newer clients, we will share drawings from previous work similar to their needs, but this is more of an ice-breaker because sometimes going all out on a drawing during the bidding process can be off-putting. Furthermore, submitting a detailed drawing prior to being awarded the work may result in the potential client using another crane company to execute the plan we so generously provided. One would like to think this does not happen, but it does. As far as the use of a specific crane, we have software that allows us to easily plan a lift using a variety of cranes.
WHEN DID LIFT PLANNING SOFTWARE (OR COMPUTER SOFTWARE IN GENERAL) BECOME A STAPLE IN THE LIFTING INDUSTRY? HOW WERE THESE CALCULATIONS DONE BEFORE LIFT PLANNING SOFTWARE WAS INTRODUCED?
Lift planning software was already part of the industry by the time I came along, but it is definitely becoming more advanced, when it comes to thorough planning and computer-generated drawings, the industry certainly is not going backward. I still use a calculator to figure out everything for the drawings. I use a simple rigging handbook full of formulas and equations that have been developed in the industry for many years, and I find this the most comfortable method for me. The market does have apps and software that allow the user to plug in simple numbers, but I still prefer to punch out the numbers myself using the formulas.
WHAT SPECIFIC SOFTWARE DOES IMPERIAL CRANE SERVICE, INC. USE?
Much of the company uses A1A's 3DLiftPlan, but we also have software called LiftPlanner, which works with AutoCAD. LiftPlanner is essentially each of our cranes represented as dynamic 3D models which, once chosen from the menu and inserted into a drawing, are manipulated by clicking on or typing in a series of easy to use commands. The cranes are built with great detail and to scale within 1/8 of an inch. A1A has a great product in 3DLiftPlan, however, I have always utilized AutoCAD to generate drawings and the recent addition of LiftPlanner has really expedited the process of generating a drawing. The AutoCAD drawings allow for a level of detail that is hard to match and also allows the drawings to be custom fit to the client's needs. I often adapt the drawing layout and information based upon the Site Specific Lifting and Rigging Procedure our clients are obligated to follow.
WHO AT IMPERIAL CRANE ACTUALLY USES THE SOFTWARE AND HOW MANY PEOPLE SEE A LIFT PLAN SIMULATED BEFORE IT'S ACTUALLY CARRIED OUT FOR REAL? DO THE CRANE OPERATORS USE THE SOFTWARE?
I would say the software is mostly used by the sales staff or project/construction managers. We, at minimum, have a colleague conduct a 'peer check' prior to sending a drawing out. During the planning phase it is common to consult the operators, especially those who may actually be making the lift, to get their input. There is usually a multitude of configurations for the crane and/or rigging, but to pinpoint them down to a combination that works for the client within the confines of their worksite is important.
WHAT ARE THE BIGGEST BENEFITS OF LIFT PLANNING SOFTWARE? DOES IT PROVIDE YOU MULTIPLE OPTIONS FOR CARRYING OUT A JOB AND HELPING CHOOSE WHICH CRANE TO USE?
Even the most experienced person in the industry benefits from seeing a drawing. A picture is worth a thousand words and if done correctly, the drawing eliminates any potential misunderstandings that may arise from a verbal description of the lift.
IS THE USE OF LIFT PLANNING SOFTWARE JUST ASSUMED THESE DAYS? DO CUSTOMERS EXPECT TO SEE DIGITAL LIFT PLANS FOR EVERY SINGLE JOB?
Not every job requires a lift plan, however at some point, no matter howsimple the lift, someone had or will have a discussion about where to place the crane and how to rig the load. Anytime that discussion can be taken from the ether and etched onto paper is a benefit to those doing the work. What may be simple to a professional crane operator and professional rigger may not be so simple to those less experienced in lifting and rigging. Safety is everyone's priority and one of the most common phrases I hear on jobs before a lift is "Anyone can stop the lift at any time." I agree with this philosophy 100 percent, however, every effort should be made to ensure that everyone involved with the job understands their role and exactly why this lift is safe. This takes us back to the phrase "A picture is worth a thousand words." Lift Plans are about transparency: Here is what we are doing, this is why it is safe.