MANITOWOC – Jared Martin, 19, is a production welder at Manitowoc Cranes with quick advice for a high school student considering going into metal manufacturing.
"I would tell a teenager it is a good career to get into," said Martin, who went through Manitowoc Cranes' own welding school while completing his senior year at Mishicot High School.
"Once you're certified, you can go just about anywhere in the world … it is a great trade to have," said Martin, who plans to stay at Manitowoc Cranes.
The recruitment theme of the company with production facilities around the globe — including the crawler crane plant on South 30th Street — is "Build something real."
"I enjoy knowing the welding I'm putting into cranes will be going throughout the world … the challenge is always working on something new," said Martin who sees various models in the test yard as he walks to his car to drive home.
A small fleet of Manitowoc crawler cranes, owned by Crane House in the Netherlands, recently helped build a $1.3 billion liquefied natural gas terminal in France.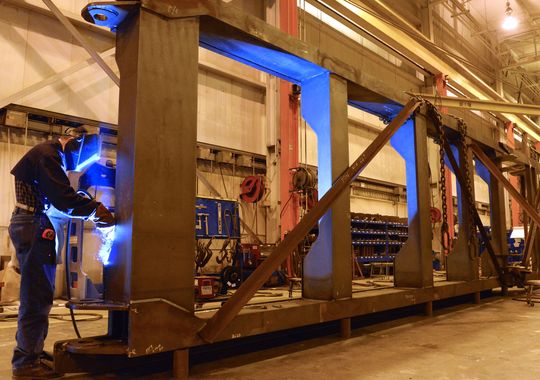 Last summer, just 25 miles south in Sheboygan, a Manitowoc 16000 crawler crane helped assemble the tallest flagpole in America, a 400-footer fabricated at Broadwind Towers on the Manitowoc River peninsula and erected at ACUITY insurance company flanking Interstate 43.
Nick Gilbert, 23, also became part of Manitowoc Cranes' homegrown talent going through its welding school.
"Welding offers never-ending opportunities … jobs are open everywhere," said Gilbert who is attending Northwest Technical College to become a certified weld inspector.
Gilbert also touts future job security for well-trained welders, noting robots won't be taking over many critical fabrication tasks.
'Significant shortages'
A report titled "Growing Wisconsin's Talent Pool" was prepared by Manpower Group and Right Management. It stated, "Many professions such as engineering, welding and nursing appear headed for significant shortages because the current workforce is aging and there is not enough talent coming in to replace them."
Specifically, the report stated Wisconsin will have fewer than half the metal manufacturing professionals that it needs by 2021.
"While the perception is that the welding sector is established and static, there is in fact constant change as new processes and equipment are developed to meet changes in the manufacturing process or specific unique applications," the report states.
Manitowoc Cranes has had its own welding school for many years and "it rivals anything any technical school could offer," said Joe Konop, 64, Manufacturing Fabrication manager, who was a welder in his earlier years at the company he's served for 44 years.
It features 16 instructional booths in Manitowoc and another seven at the company's Port Washington plant that can be used round-the-clock for a potential 69 students at one time.
Manitowoc Cranes anticipates hiring between 80 and 100 welders this year. The company has about 135 welders in Manitowoc and another 30 in Port Washington.
"Ideally, we would like our welding school students to have some welding background … perhaps on the farm, a previous employer, in high school or at technical college," said Patti Denk, human resource director at Cranes.
Under certain circumstances, the company will hire and train individuals without any welding skills whatsoever. But Denk said all students and employees are expected to "communicate well, embrace change, be eager to learn, be passionate about what they do and have a high degree of integrity."
Josh Baldwin, 33, manufacturing engineering manager, said Cranes workers do many different types of welding including submerged arc, gas metal arc welding, flux core welding, and shielded or manual metal arc welding that may take the most finesse.
"The size of welding guns is much more user-friendly, lighter and easier to handle," Konop said. "Welding equipment has gone from analog to digital and the quality of work can be much higher."
They said welders now use helmets with self-darkening safety glass enabling the worker to clearly see the parts being welded during setup but then darken once the arc is struck.
Baldwin and Konop said the working conditions for welders has changed, including a cleaner environment employing so-called lean manufacturing techniques and a greater attention to ergonomics. Automation has led to less physically intensive tasks.
Safety focus
Joe Bianchi, operations technical support director, said safety is a primary focus at Manitowoc Cranes, which was recognized with an award at the recent Chamber of Manitowoc County Annual Dinner & Meeting.
Corey Zeddies serves as manager of Safety and Environmental Affairs. He noted Manitowoc Cranes tracks significantly ahead of industry averages when it comes to injuries and OSHA recordable incidents.
The company implemented its Safety Management System in 2007. The three elements, out of 31, with the greatest impact are accountability, interactive safety observations process, and employee hazard recognition, which features the SLAMprocess.
That stands for Stop – start every job with a risk assessment, Look for hazards, Assess the risk, and Manage the risk.
Safety teams include representatives form manufacturing engineering, safety, maintenance and shop-floor leadership.
Online: www.manitowoccranes.com